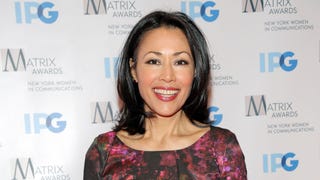 After December's shooting at Sandy Hook Elementary, Ann Curry began a Twitter-driven campaign she called "#20Acts,"encouraging fans to perform 20 acts of kindness (one for each child killed in Newtown). Now, Curry is reviving the campaign and dubbing it "#26Acts2"—one act of kindness in honor of each mile of the…
A man named Alpha Lorenzo Walker and his conspirator Tamara Eileen Diaz were arrested earlier this month for trying to extort Stevie Wonder and were the subject of myriad tired late-night show monologue jokes for fucking up what you'd imagine for obvious offensive-punchline-type reasons would literally be the easiest…
Are you a salad eatin' bitch? If so, Coolio has a great recipe! In an article I can only describe as three pages of what the fuck, the Daily Beast takes us inside Coolio's fight to become a celebrity chef.
Michael Jackson's family is reportedly ready to fight his ex-wife (and mother of two of his children) Debbie Rowe for custody, as they believe that Rowe was never truly involved and that the kids should stay "within the family."[TMZ]
Sources say the woman who texted Chris Brown, "triggering" the assault on Rihanna was his manager Tina Davis, 40, who is rumored to have had a relationship with Brown when he was 16. [TMZ]
Michael Jackson is dying, according to the oh-so-reliable National Enquirer.
Last night TMZ reported that Lindsay & Sam broke up. [TMZ]
Britney was at a middle school in The Bronx yesterday to present a $10,000 check for the music program. The donation came from Elizabeth Arden, which is behind Brit's fragrances, Believe, Fantasy and Curious. [People]
Hey, guess who has another perfume coming out in December? [ONTD]
So yesterday we read that Britney…