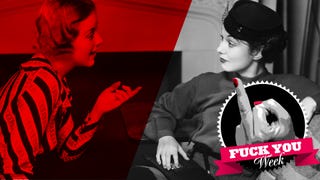 Last week was Fuck You Week, Jezebel's first annual week of desperate emotional cleansing and unhinged psychic purging. But Friday took a turn for the awful and we didn't run our final entries. So we're doing that now.
It's not many of us who were organized enough to tape ourselves at age 12 talking to the future us, but thank goodness Jeremiah McDonald was. Now that it's 20 years later, he's having a little conversation with his past self. The results are pretty amazing, though the exchange between the two (er, one) is more…
Remember those good old days when we all used to sit around in the parlor and snipe cleverly to each other's faces? Remember when we used to spend hours (and $$) making long-distance calls to our far flung loved ones? Remember when we used to leave each other voicemails? Man, those were the days. But now it is all…
When we were eleven, my summer-camp crush and I nerd-flirted by attempting a Vulcan mind-meld. As it turns out, this may be (sort of) possible — and all you need is love.
"Talking through it" is a time-honored way of dealing with problems, and new research shows that people who talk more are happier. But some kinds of talk may be more helpful than others.