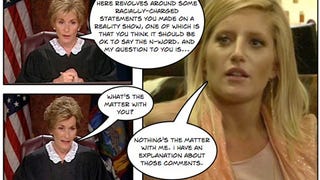 Between his shenanigans of allegedly wiping out his family's bank account, claiming he no longer wants his family filmed, then three days later, trying to film his children's birthday party, Jon Gosselin is out of order. Judge Judy is needed.
Earlier this week, during President Obama's address about health care reform to a joint session of Congress, Rep. Joe Wilson yelled out, "You lie!" There's only one person who can put a heckler in his place—Judge Judy.
Depending on the site, internet commenters can hurtful, stupid, racist, sexist, and homophobic. Oh, and they can't spell for shit. The worst is that they're so judgmental. So it's time for them to face the judge—Judge Judy.
Three days after his son passed away, Joe Jackson began using the free publicity to promote his new record label. But that's nothing compared to the decades-worth of horror stories about his parenting. Should he even be around MJ's kids?
Messrs. Stewart and Colbert are on vacation all week - nice timing! - but Letterman is back, and, last night, he didn't shy away from the sticky issue that is media martyr Sarah Palin. Strangely, he didn't slam her either.
Last week, South Carolina Governor Mark Sanford went missing and scared his staff. Later he admitted to that he was having an extramarital affair in Argentina. Maybe Judge Judy can show him the way to the Appalachian Trail.
Janice Dickinson was recently on FNTM…and that's not all that she was on. Wasted, she fell down the stairs and cursed at the aspiring models. Dickinson has been through rehab several times before, and claims she does not have a problem. But once she faces Judge Judy, she certainly will.
Minnesota Republican congresswoman Michele Bachmann says a lot of crazy things. This week, she implied that Democrats are to blame for the swine flu. Lady needs to stop talking and put on her listening ears.
Perez Hilton has made a name for himself by employing base tactics when covering celebrity gossip. It's not surprising that he's been equally vile following the Miss USA scandal. It's time that justice is served.
In her comedy special, She'll Cut a Bitch, Kathy Griffin said her mom loves Judge Judy, and wishes Kathy could get a "guest spot" on her show. We've (sorta) made that happen.