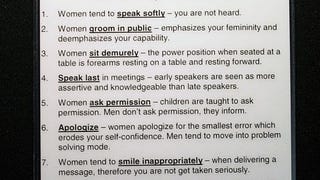 This list of "helpful" "tips" for female employees was reportedly distributed to the entire HR department at Citibank. After the jump, we add some of our own ideas for how silly ladies fail to get ahead.
Barack Obama made it official with Tim Geithner today, announcing that he will nominate Geither to the Treasury Department. Former Treasury Secretary Larry "Math Is Hard For Girls" Summers is headed to the top of the White House Economic Council and Berkeley economics professor Christina Romer will head the Council…
If you're anything like me, the
financial state of the U.S.
terrifies you, but in an amorphous way. You try to read numerous newspaper articles about Lehman and Merrill Lynch and Fannie Mae and Freddie Mac, but it's like reading with seventh grade Spanish: a certain grasp of the vocabulary is missing. We decided to…