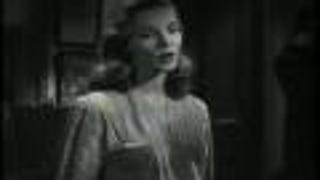 Today at her home, Lauren Bacall, a screen legend and one of the greatest actress in cinema history, died at the age of 89. This scene from the 1944 film To Have and Have Not is absolutely one her best performances in her long, illustrious career and it's a fitting way to remember her legendary life and career.
For those cinephiles not enticed by the cupcake-flavored extravaganza that is the Sex and City walking tour, meet its cousin, the "Shawshank Road Trip." [USA Today]
This was the year, we're told, that Hollywood started making movies for women... as long as they were totally inane. And next year, as Self-Help Cinema launches, they'll be even more vapid!
Ann Savage, an actress who made her mark in more than 30 films of the 1940s and 50s, has died at the age of 87.
Why are the men in funny movies played by such fat hopeless schlubs these days? This week's New Yorker ponders this enduring mystery only about six weeks late. It reminds us how we once dated a guy who likened our pairing to what he termed a "rom com" — a less Boomer-gay way of saying 'romantic comedy' — in which we…