Angelina Jolie is pleading for help on behalf of Pakistan's flood victims.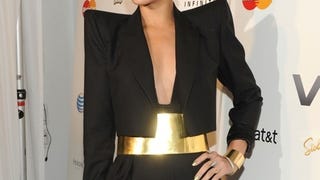 "Simon has that naughty look in his eye. He isn't my type, but he is so charismatic and charming and the ladies go for the whole power thing. I know a lot of celebs have crushes on him."-Rihanna [TheSun]
It's been one week since Michael Jackson's death, and in the ensuing 7 days, friends and fans have been everywhere, expressing both admiration and grief. However, such talk about how Jackson "touched" people could be misconstrued, considering recent, controversial history.
Even though it received
tepid at best
reviews, the new was a According to , "4.9 million viewers tuned into Tuesday's two-hour premiere," the highest debut for a scripted TV show ever on the fledgling network. • "Which celeb pair snuck off to the toilets during the GQ awards do for a cheeky shag?" • Kate Hudson…
[New York, December 9. Image via INF.]
[Ed Sullivan Theater, New York, NY; July 30. Image via INF]