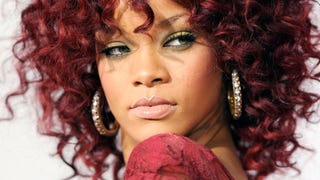 Rihanna had dinner with Topshop founder Philip Green and Simon Cowell. Because Green and Cowell run an entertainment company that produces television and fashion ventures, the tabloid seers are pretty sure that means Rihanna's getting a clothing line. [Daily Mail]
The Tony awards may be Broadway's biggest night, but between Denzel and Cate and Catherine and Viola and Scarlett and Naomi and Jada, you'd be forgiven for mistaking it for the Oscars. Wait, scratch that: the clothes were all Broadway!
Swiss officials announced today that Roman Polanski won't be extradited to the United States until L.A. courts make a "decision on the question of an in absentia trial." For now, he'll remain under house arrest at his Swiss chalet.
Karl Lagerfeld gave SpongeBob SquarePants a makeover for a charity auction, resulting in this little charmer, which sold for €1,000. [WWD]
Conan O'Brien landed in the hospital yesterday due to an injury sustained during a Tonight Show stunt. A source says O'Brien was "running down a flight of stairs when he slipped and banged his head, possibly sustaining a concussion." [E!]
Chris Brown was supposed to be sentenced today for pleading guilty to felony assault, but the sentencing was postponed to August 27 so the judge could review his full community service schedule, which she wants to include hard labor. [TMZ]