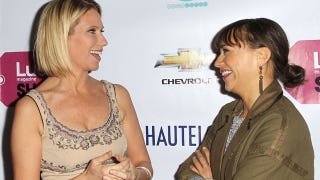 Stars: they're just like us! They like bargains, too — at least the ones who hit Lucky Magazine's 1st Annual "Lucky Shops LA."
Jordana Brewster is actually ready to shop. Ditto Mandy Moore: why hit "Lucky Shops" if you can't get down to business? Rashida Jones perks up neutral basics with this fun,…
Rachel Zoe! Paz de la Huerta! Kiernan "Sally Draper" Shipka! If the turnout and the bombshell fashions are any indication, we hope Elle's Inaugural Women In Television Celebratory Dinner will become an annual tradition!
"Dinner with a Designer" has never been a particular ambition of ours - maybe a "fitting" with a designer - but, judging by the turnout at "the Council of Fashion Designers of America Celebrate Brian Atwood," the stars disagree!
At London's Earls Court, the sequins and limbs and weird did fly...with a little help from Kylie, Alicia, Mika, Courtney Love and citoyenne du monde Lady Gaga! And is that the queen we spy...?
For pure star power, variety of getups, successes and head-scratchers, the 16th Annual ELLE Women in Hollywood Tribute at Beverly Hills' Four Seasons Hotel scores some serious points. Especially for the spoonful of Julie Andrews.
Cat Deeley is on the cover of Eve. Cat Deeley is probably the most boring of the celebrities I have learned about being here so it makes sense she lives in LA now. She is buying a house with her yoga teacher, which seems sort of like a British-transplant-in-LA thing to do. She just read The Kite Runner. My mom and…