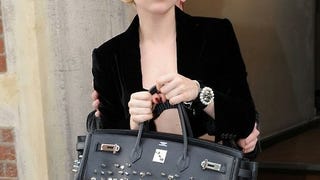 Lady Gaga spent two hours answering questions live online. "I need fashion for my music, and I need music for my fashion," she said. [SHOWStudio]
That Gaga: Always destroying her Birkins. [Fashin]
Last night, during the first concert of her Australian tour, Whitney Houston was breathless, barely finished any of her songs, and left the stage at one point, telling her brother to take over the microphone.
There were rumors that Sarah Jessica Parker would be the face of Halston, the brand people just can't keep themselves from reviving. And she wears Halston in the poster for SATC2. But is she actually seeking a design role? [E!]
Of course a Nicole Richie clothing line was inevitable. It's called Winter Kate, and it will be hitting stores next February. [WWD]
The full Jimmy Choo for H&M lookbook is out. [Daily Mail]
Is Jon Gosselin trying to look bad? He's returned the two family dogs to the breeder. "Jon blames Kate for having to give up the dogs," says a source. "Of course, these days Jon blames Kate for just about everything."
Burton and Playboy have teamed up to create a line of snowboards. (Examples, at left.) They come in both silicone and non-silicone versions. Insert joke here and click on picture for larger image. [Men.style.com]