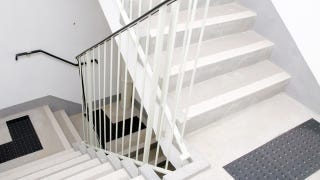 The city of New York has tried a lot of approaches to reducing obesity, from requiring restaurants to post calorie counts to banning trans fats. Now the city's announcing an anti-obesity building that's supposed to help its residents stay fit. Will it work?
[New York, May 12. Image via Getty]
The documentary Bronx Princess is all about culture clash. Rocky is a literal princess; her father is a chief in Ghana. We watch her take two journeys: her first trip to Africa, and Freshman year at couldn't-be-farther-from-the-Bronx college.
Britney's big eff you to her (chef) dad: Skipping dinner: "Britney thinks that if she doesn't eat much she will lose weight, then people will notice," an insider says. [MSNBC]