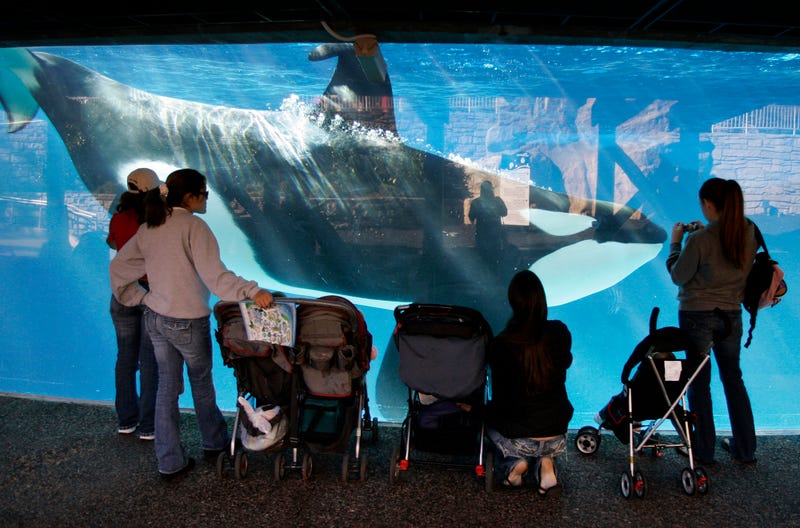 After years of public outcry and declining attendance over killer whale conditions at SeaWorld, the company's San Diego facility announced that its final killer whale show will take place on Sunday, according to the Associated Press. There are 11 orcas at the park, ranging in age from 2 to 52 years old.

SeaWorld announced Thursday morning that it will ends its program breeding killer whales in captivity. The news comes about a week after the park admitted that Tilikum, the orca depicted in the documentary Blackfish, is in failing health.
After a long day of speeches, the California Coastal Commission voted to ban captive whale breeding in SeaWorld's San Diego park, as well as to significantly restrict the movement of whales in and out of the park. These were set as conditions for the approval of SeaWorld's $100 million habitat expansion, which…
SeaWorld released its most recent quarterly report on Thursday, and it's pretty funny, as quarterly reports go!
When I want people to know how much SeaWorld sucks (it comes up a lot, somehow), I bring up the 2013 documentary Blackfish. When Marisa Miller wants people to know how much SeaWorld sucks, she gets pregnant, takes off her clothes, does her hair and makeup, and lies down in a dirty bathtub that's not even connected to…
Mattel is discontinuing its Seaworld Trainer Barbie line, Page Six reports, partly in response to concerns from animal rights activists that SeaWorld mistreats its orcas. Simultaneously, the company has announced a new doll to honor director Ava DuVernay, one of six "sheroes" (others include Lucky editor Eva Chen and…
SeaWorld announced Wednesday that in the third quarter of 2014, income and attendance were significantly down compared this time last year. Hmm, I wonder why?
The gut-wrenching documentary Blackfish is having the exact effect SeaWorld worried it might have: it's putting people off of SeaWorld, most recently musical acts like the Canadian band Heart, Willie Nelson, and Barenaked Ladies.
I didn't see Blackfish, mostly because I think it would make me horribly depressed and I need no convincing that keeping killer whales in tanks is a pretty fucking bad (and cruel) idea, but from what I hear, the documentary does a pretty good job at condemning SeaWorld as an evil institution that probably shouldn't be…
SeaWorld is up in arms about a new documentary that dives into the story behind captive killer whale Tilikum's killing of one of his trainers. Tilikum was captured by hunters and dragged away from his mother in 1983 when he was about 2 years old, and has lived in marine parks ever since. He's had other deadly run-ins…