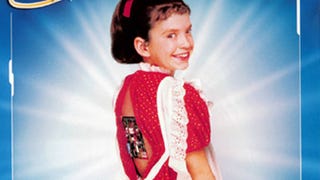 Via BWE is this phenomenally campy infomercial for the Dirty Dancing Workout DVD, with a dancer unconvincingly claiming "this is actually from the movie, you guys." [Best Week Ever]
I don't know about you, but this is just what I needed today. Two cats. One treadmill. Good times! Video begins above.

Eric Bana is hot, this much we know. But he is also funny! Back in his early acting days in Australia, the sweet piece of mancandy had his own TV program called The Eric Bana Sketch Show. The peeps from Best Week Ever dug up an old clip in which Bana tackles two roles: Tom Cruise, and someone interviewing Tom Cruise.…

If you were one of those unfortunate souls who got a gander at that notorious (and, frankly, disturbing) couch-humping video that made the rounds a few weeks ago, you may enjoy the above, which we came across (as usual) on Best Week Ever. Think of it as, well, the silent film version of the circle-jerk.

Best Week Ever has just posted what has to be the most disturbing video we've seen all day (other than Jenny getting harassed by the manager of Victoria's Secret, but that's a matter for tomorrow!). Taken from the new E! show Sunset Tan, the clip shows a young mother dragging her reluctant young daughter to a L.A.…

National Action Against Obesity's MeMe Roth, appearing on Fox News, says that 17-year-old Jordin Sparks shouldn't have won American Idol. Because she "clearly has extra weight on her." And: "When I look at Jordin what I see is diabetes, I see heart disease, I see high cholesterol." As we've said before, does Amy…