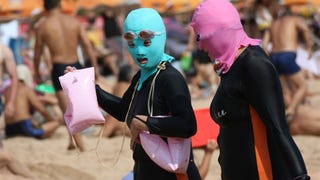 If you were on the internet 9 years ago, you may have heard about the Facekini, a revolutionary product that protected one's face from tanning while swimming. Almost a decade later, the Facekini is even more popular, exploding onto the beaches of Qingdao, China and protecting from more than just the sun.
With summer rapidly approaching, we must also face the onslaught of articles and news segments on the various ways we can manipulate our bodies into looking so perfect in a swimsuit that we will never be unhappy again. As GMA pointed out this morning, people do a lot of crazy (and often senseless) things in order to…
Here's a counterpoint to the study which found that swimsuit shopping makes you feel like crap: A picture of a gorgeous gal rocking the shit out of a bikini. Blogger/writer/fashionista/Twitter expert Gabi Gregg writes of her "Fatkini," "[It] makes my enormous boobs look even bigger but I don't care." And:
It's pretty fucked up to compare former Playboy Playmate Victoria Silvstedt to an innocent gray-haired lady who just happened to be nearby, and call the lady, who is probably someone's grandma, "lumpy." Nice job, New York Post.
UK clothing chain Primark has apologized for its line of padded bikini tops that fit girls as young as seven. The company has offered to donate profits from the inappropriate swim suits to a children's charity. [BBC]
As we all know, swimsuits are a highly-charged issue. But, kids, if you're wary, this is your year: It's all about glam and flattering Old Hollywood looks that Marilyn — or you — would happily sport.
In addition to the $6,000 closet, Lucky's May issue also features a "Best Swimsuits Of The Season" feature, in which "best" means "teeny bikinis which barely cover the areolae and pubic mound."