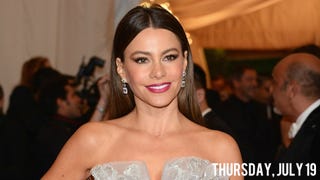 At long last, Kim Kardashian has been dethroned as the highest-paid woman in TV; Modern Family actress Sofia Vergara has whirlwinded in and dropped a house on her. Vergara, 40, has made roughly $19 million in the last 12 months on the show, a number that's padded by her K-Mart clothing line and Diet Pepsi endorsement,…
In this week's compilation of pop culture crap, Kathy Griffin gives Piers Morgan a hard time, Colleen Camp is ornery, and Anderson Cooper takes aim at Chris Brown.
While on , Dana Delany mocked Kelsey Grammer's new career goal of wanting to be the mayor of New York without realizing that the show's hosts…
In this week's compilation of pop culture crap, Hugh Hefner gives the definitive answer on whether or not Casey Anthony will pose for Playboy, Paris Hilton explains why she doesn't give blow jobs, and pageant mothers continue to be horrible people.
As Hef says, "Some people may think of as exploitation. I…
In this week's compilation of pop culture crap, we learn Coco's measurements, discover that vaginas come in different shapes and realize that Billy Bush is — surprise! — kind of an asshole.
In case you were wondering, she's 39.5, 24, 40. Ice-T follows this up by appropriately quoting Sir Mix-a-Lot. It's…
In this week's compilation of pop culture crap, Piper Palin is sick of all the bullshit, Sandra Bernhard recounts the first time she met Courtney Love, and apparently, horses can get herpes.
She's had just about enough of her mother's tour bus. Legendary alum Tami Roman give a little wink to the camera…
There have been seven divorces that have occurred on The Real Housewives franchise in the five years since its premiere. The most recent casualty of this "divorce curse," Vicki Gunvalson, blames reality TV for her marital troubles telling CNN recently, "We didn't have 90 percent of the problems that we have now and I…
Seventeen years ago—during reality TV's infancy—Tami was on The Real World L.A. We talked to her about her history-making abortion, having her jaw wired shut, and returning to the genre she helped pioneer, on VH1's Basketball Wives.