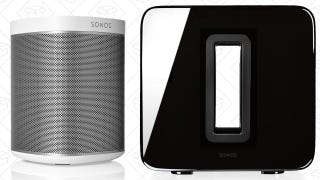 In the first line of her new single "Lust For Life" (featuring The Weeknd, not that he adds much to it) the perpetually stoned and in love Goddess of California, Lana Del Rey, sings about climbing up the H of the Hollywood sign with someone who is so absurdly hot that when they're together it always feels like July.…
Mpow basically created the cheap Bluetooth headphone market, and their noise-cancelling Wolverine models are marked down to $15 today with code PV62UJKU, the best price we've seen.
We see deals on Bluetooth earbuds almost every day, but if you prefer on-ears, this highly rated BÖHM headset is marked down to an all-time low $68, today only on Amazon.

In 1890, the phonograph company helmed by Thomas Edison began producing talking dolls for children. The product was initially a flop because kids "found them difficult to operate and more scary than cuddly," according to the New York Times. Look at and listen to the dolls and you'll see exactly why they were so…
We were pretty sure that JT had given up on music so he could get all hyper-kinetic in The Social Network and do whatever he's doing in that movie with Amanda Seyfried. But no!