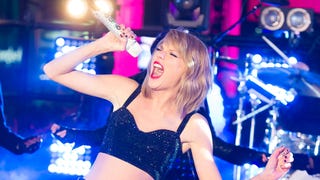 Taylor Swift's fans are some of the most obsessive and devoted in all of show biz. They love all of her, including (and especially) her armpits as this wildly specific subreddit goes to show.
Confession: Don't be jealous, but I am totally fine with my armpits. Call me an arrogant rube, call me body-shame ignorant, but prior to the Dove campaign to beautify the pits, I didn't even know I was supposed to hate them. Now I refuse to hate them so that I might one day grow to love them — that's what passes…
Your armpit, already the subject of Vogue scrutiny for possible plastic surgery, has another problem besides being fat and saggy: Being just plain ugly.
Bliss Spa is hiring people in gorilla suits to roam the streets of New York handing out coupons for waxing to promote hair-removal services. The slogan: "We're wild about hair removal." Our slogan: obsession with hairlessness is out of control.
Uh oh. "If having malodorous armpits (called osmidrosis) and goopy earwax isn't bad enough, a discovery by Japanese scientists may add a more serious problem for women facing these cosmetic calamities. That's because they've found that a gene responsible for breast cancer causes these physical symptoms." [EurekaAlert]
• One English woman grew out her underarm hair to see how people would react. Let's just say they made her feel like the pits (sorry). •
Okay, so they're saying Beyoncé had a little armpit hair at the Cadillac Records premiere. 1) Who cares? 2) Can you even see it? [Mirror]
A reader points out you can barely see Beyoncé's pit hair in Perez's pictures, though on TMZ, her pits seem especially hirsute. Photoshop of horrors? [Perez Hilton, TMZ]
Surely when…
In a story appearing in a recent issue of New York magazine, Corrie Pikul, a self-professed "rampant perspirer," tested some sweat-prevention solutions. Secret Clinical Strength anti-persperant? "I still developed big splotches at the gym," she writes. She also tried Drionic Iontophoresis kit, which sens a mild…
The economy may be in the crapper, but Americans know what's really important: Looking good! Science Daily reports that plastic surgery procedures will quadruple by the year 2015. They're predicting that cosmetic surgery will weather the current decline, and that in 7 years, 55 million surgeries will be performed…
Summer = pit stains. Unfortunately. But Shizuka New York, a midtown salon, offers an "underarm overhaul," reports New York magazine. Steaming, cleansing, hair removal and botox injection should render your pits perfect. The cost? $1,500. You could probably buy new arms on the black market for that kind of cash. [NY Mag

Hair is steeped in symbolism and layered with subtext and meaning, especially for women. Our tresses speak volumes, suggesting to the world that we're wild, refined, high-maintenance or lazy. Hair can reveal our age and our ethnicity. And that's just the hair on our heads. For one woman, Laura Woodhouse (left), who …