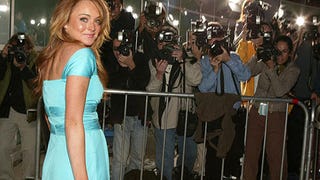 In an interview Michael Lohan responded to Lindsay Lohan calling him her "ex-father" on Twitter saying, "maybe she's divorcing me today, but she'll remarry me once she gets her life back."
Last week, Us Weekly declined to publish a photograph picturing Jesse James doing a "Heil Hitler" gesture. But this week, guess who's running the picture?
Blake Fielder-Civil says he and ex-wife of seven months Amy Winehouse are planning to remarry. "Amy's wearing the Tiffany ring I bought for her three years ago, again. We've been meeting up and talking about the old times," he says.
As a token of her affection, Angelina Jolie decided to spend $18,500 on a 200-year-old olive tree, which she gave to Brad Pitt for Valentine's Day. How long before the tabloids dub the tree "Jen's Weeping Willow?" [NYDN]
Chris Brown, currently on his National Bow Tie Apology Tour, says he's ready to meet with a counselor: "I want to understand my feelings. I want to find out what really transpired as far as me that night."[People]
Christian Bale looks dirty and hot on the cover of the new EW! Inside, he talks about that infamous rant that was so popular it got turned into a dance remix:
[Maui, September 17. Image via Flynet]