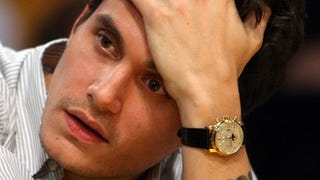 Another day, another John Mayer apology. He told the audience at his sold-out Madison Square Garden show last night, "I hate to come off like an asshole ever, and thank you guys for believing that I am not an asshole..."
Last night, during the first concert of her Australian tour, Whitney Houston was breathless, barely finished any of her songs, and left the stage at one point, telling her brother to take over the microphone.
Uh-oh. This could be controversial, if you have read the books: Angelina Jolie will play Kay Scarpetta of the bestselling Particia Cornwell mystery novels.
Jay-Z claimed on the Friday Night With Jonathan Ross that he's responsible for some of Beyonce's famous moves: "She's a magnificent performer. I steal routines from her. She steals from me. The 'uh-oh' dance - that was me." [DailyMail]