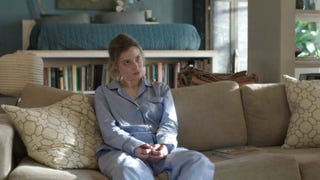 Here it is, because we have to talk about it: a character on Girls had an abortion, and it was very chill. Adam's new girlfriend Mimi-Rose politely declined his request to go for a jog, telling him, "I can't go for a run because I had an abortion yesterday." The scene that followed was both laudable in its…
Well, it seems that Adam Driver is on his way to heartthrob status (if he wasn't there already). The Girls star is in the Daniel Radcliffe/Zoe Kazan movie What If and he's also nabbed the September cover of GQ.
In the upcoming movie What If, Daniel Radcliffe plays Wallace, a young man who falls in love with Zoe Kazan (her character's name is Chantry). The only trouble is, Chantry already has a boyfriend. "Still, there is no denying the chemistry between them, leading the pair to wonder, what if the love of your life is…
To your chagrin, the gum-snapping, Jnco-pants-wearing Icarus known as Justin Bieber has not yet flown into the sun. In fact, Biebs' reign of terror has now expanded well beyond the Greater Los Angeles area. He and his Little Rascals were banned for life from Las Vegas Indoor Skydiving after being disrespectful brats.…
Justin Timberlake and Adam Driver unexpectedly duet in ways that make them feel good in Inside Llweyn Davis (previously entitled Peter, Paul and Mary: Twerk It).
Ahem. Jada Pinkett Smith, one of the premiere Awesome Moms of our time, has something to say. And then she will drop the mic. But first: