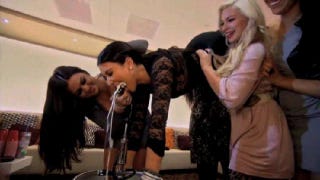 On last night's episode of Kourtney & Kim Take New York, Kim celebrated her 30th birthday with a big birthday part in Vegas (for which she was no doubt paid an exorbitant fee to attend) while pissing and moaning the entire time about how old 30 is and how her life may as well be over.
Rihanna had dinner with Topshop founder Philip Green and Simon Cowell. Because Green and Cowell run an entertainment company that produces television and fashion ventures, the tabloid seers are pretty sure that means Rihanna's getting a clothing line. [Daily Mail]
In a new column, Doree Shafrir reflects on life in her thirties. But in the first installment, she goes back to her twenties and finds that her 22-year-old self maybe wasn't so clueless after all.
John Mayer on his breakup with Jen Aniston: "There's no lying, there's no cheating, there's no nothing. Jennifer Aniston is the smartest, most sophisticated person I think I have ever met. People are different, people have different chemistry. I ended a relationship to be alone, because I don't want to waste…