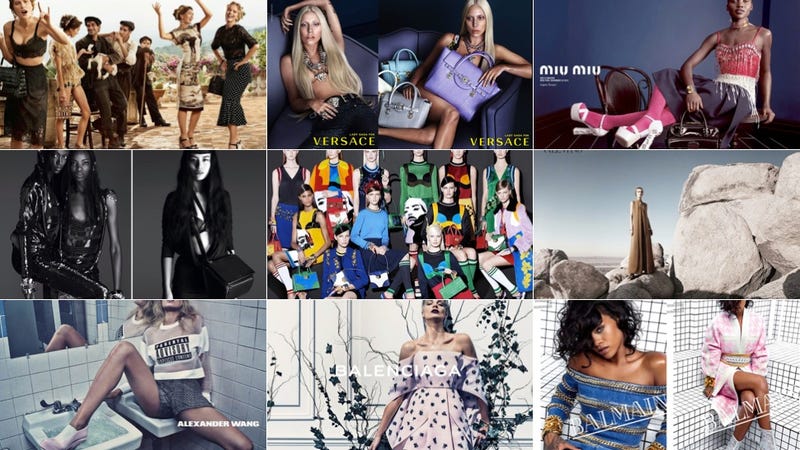 Now that the polar vortex has banished its horrid self from our presence our minds may freely travel to spring, which is lurking alluringly on the horizon. Nowhere is that more apparent than in the fashion world, whose February issues are bursting with new ad campaigns for designers' spring/summer lines.
It's a lot to wade through on one's own, so here is a round-up of some of the most note-worthy images and occurrences:
So Many Celebrity Campaigns
Spring/summer 2014 is the season of celebrity campaigns — several designers have opted to have singers and actresses represent the brand instead of models. I mean, I guess if you're going to have someone be your creative muse, why not have her in your campaign?

Rihanna for Balmain
Rihanna is the face of Balmain this season, a hugely high-profile collaboration. It's an ideal pairing; I can't think of any celebrity who better embodies the fashion house's edgy, rock star aesthetic (or anyone who looks better in Balmain's typical silhouette). Towards the end of 2013, Olivier Rousteing, the label's creative director, told Vogue, "In front of the camera, she makes you feel like she is the only girl in the world. When the woman that inspires you wears your creations, your vision feels complete."
With all of that said, it's too bad that the campaign itself is a rather uncreative rip-off of the Balenciaga fall/winter 2012 campaign.
Lady Gaga for Versace
Lady Gaga is the face of Versace! She's been quite vocal about her admiration for Donatella Versace — there's a song called "Dontaella" on ARTPOP, after all. In the images (which were shot by Mert and Marcus, who did both of Gaga's Vogue covers), Lady Gaga looks eerily like a young Donatella. As the old adage goes, "wearing a wig version of someone's hair is the sincerest form of flattery."
Gaga wore the dress from the top image on the AMAs red carpet, making up for its relative tameness by sitting on top of a massive fake horse, as one does.
Miley Cyrus for Marc Jacobs
Miley Cyrus appears in this season's Marc Jacobs ads — as noted previously, Juergen Teller refused to shoot her, so this campaign was photographed by David Sims. And this is a very reciprocal muse relationship: in December Miley told Hunger Magazine that Jacobs "kind of brought [her] into fashion when [she] was 16." She added, "He kind of let me inspire some of his pieces," so it's a two-way street. Other successful collaborations: Miley wore Marc Jacobs to the Met Ball last year, and now he's designing her tour wardrobe.