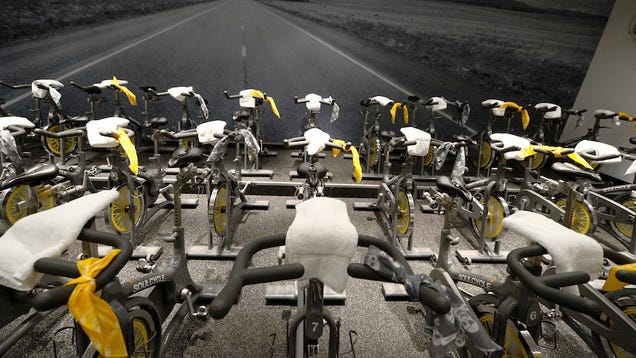 Californians were jarred awake this morning by an earthquake. Gchat got a bad case of the vapors and took to its bed mid-afternoon. And in the cruelest blow of all, the SoulCycle website crapped out just as it was time for obsessives to sign up for their weekly classes.
How much more can the gods ask us to bear?
The Wire reports on the brief, harrowing period earlier today. The SoulCycle website crashed right at noon, just the hardest of hard-core devotees were clicking through to book their preferred time slot. Cue the freakout as they realized they might miss their extremely expensive regularly scheduled workouts. Their reactions were full of all the terror a herd of vampires might feel upon realizing they won't reach their crypts by sunrise:
gChat AND the @soulcycle website is down. I really think this might be the end...

— Leigh Ann Heagle (@LAFresh) March 17, 2014
Soulcycle and Gchat are down. New York, it has halted.

— John Jannuzzi (@johnjannuzzi) March 17, 2014
you can tell who goes to @soulcycle in your office based on the number of people who look completely panicked right now

— whitney fishman (@whitneyfishman) March 17, 2014
having gchat and soulcycle down at the same time is basically the equivalent of the end of the world as we know it.

— Lynden Volpe (@lyndenvolpe) March 17, 2014
Soulcycle is 100% down causing panic attacks across NYC. GChat down too meaning I have no one to freak out about this with #help #losingit

— Matt Kays (@mattkays) March 17, 2014
REMAIN CALM. HELP IS ON THE WAY. SoulCycle pushed signups back a couple of hours and, in the meantime, got the website up and running again. Not so easily restored: The cycling public's precious trust.
Photo via Getty.