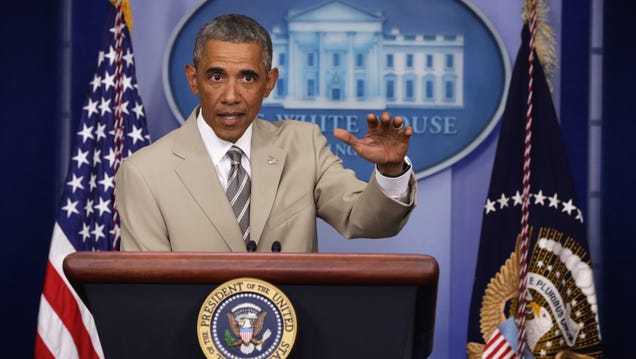 In today's Tweet Beat, Clinton Kelly expressing a dissenting opinion about President Obama's summer suit, (I too did not mind it—sue me) Ruben Studdard has a very short attention span and Ricky Gervais gets the party started.
blaming a slight recent weight gain on my weave and starting to really believe myself

— christine teigen (@chrissyteigen) August 29, 2014
"Here's looking at you kid" pic.twitter.com/fWPairRe7T

— Cher (@cher) August 29, 2014
Nothing is more 80s than two businessmen in suits high fiving each other.

— Jessica Biel (@JessicaBiel) August 29, 2014
I just saw a baby taking a picture of itself and making a sexy face.

— Gary Janetti (@GaryJanetti) August 29, 2014
Come on now @Delta two hour flight with no in-flight entertainment in 2014.

— Ruben Studdard (@RubenStuddard) August 29, 2014
@joelmchale @sethgreen the three amigos part Deaux pic.twitter.com/8M617ZzHGb

— patrick warburton (@paddywarbucks) August 29, 2014
Only because people have asked: I liked O's tan suit. (Cut and styled beautifully.) Just not so much on him. Made him look tired.

— Clinton Kelly (@clinton_kelly) August 29, 2014
Pretty sure there is precisely ONE way to skin a cat.

— Mark Reek Hoppus (@markhoppus) August 29, 2014
OK BYE GO DO SOMETHING PRODUCTIVE TODAY JUST INCASE YOU DIE TOMORROW AND EVERYONE REMEMBERS YOU AS A FUCKING LOSER THAT SUCKED AT EVERYTHING

— Tyler, The Creator (@fucktyler) August 29, 2014
It is a rule that all vacation destinations have horrible wireless, right?

— Jim Gaffigan (@JimGaffigan) August 29, 2014
The party's in full swing now pic.twitter.com/U5NpXgTdqH

— Ricky Gervais (@rickygervais) August 29, 2014
Image via Getty.