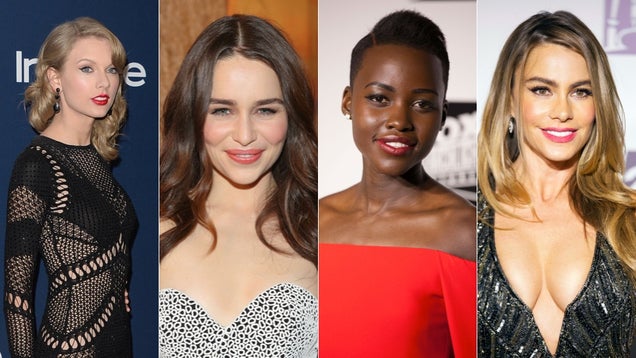 S
After the Golden Globes — Hollywood's fanciest and most expensive prolonged pregaming event — wrap up, all the stars disperse to various locales in order to celebrate themselves.
As such, outfit changes are often in order. This year, it seems that most everyone opted for some combination of the following descriptors: very tight; possessing a gaping v-neck, massive thigh slit and/or huge expanse of sheer fabric; crocheted (ok, that one just applies to Taylor Swift, but still).
Let's take a look: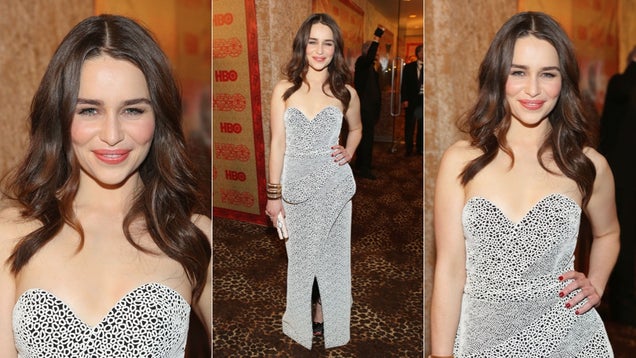 S
Emilia Clarke, aka Mother of Dragons on Game of Thrones, wore a stunning Proenza Schouler gown to the HBO after-party. I'm obsessed with the tailoring.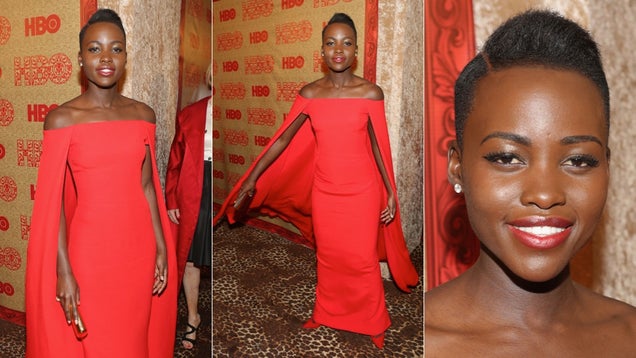 S
Lupita Nyong'o forever. Best color, best cape (sorry, Amy Adams), best dressed, best collarbone, etc. She's wearing Ralph Lauren, and she needs no outfit-change.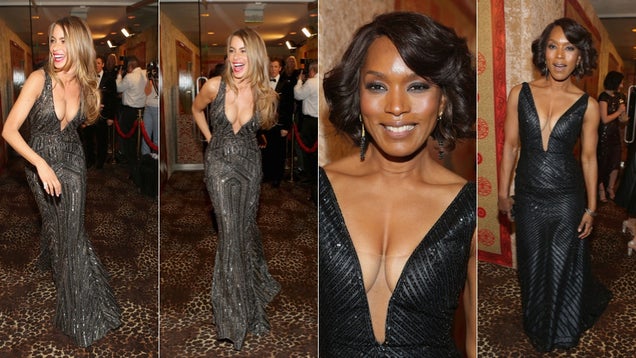 S
Sofia Vergara changed out of her Ursula get-up and into a beautiful, bedazzled, slinky dress. Angela Bassett wore one as well. They both look amazing.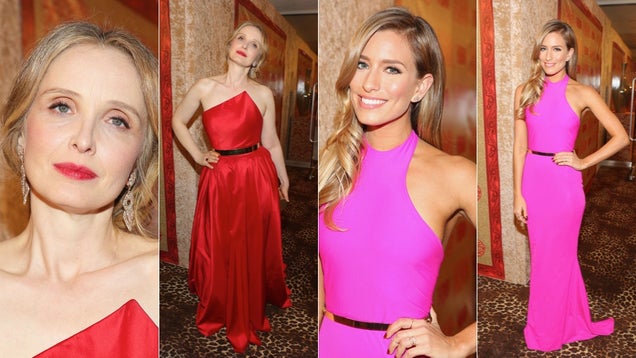 S
Julie Delpy and Renee Bargh of Extra, both in bold colors and delicate golden belts.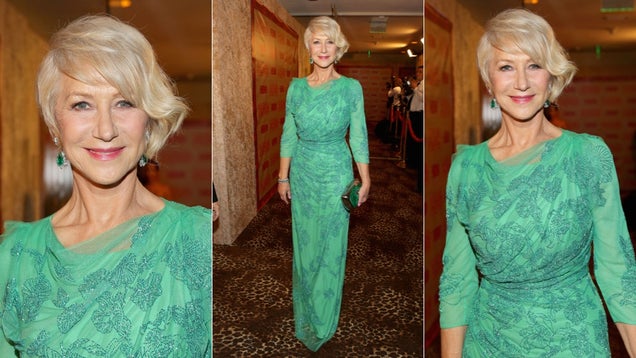 S
The one and only Helen Mirren, looking like someone out of a fairy tale in Jenny Packham.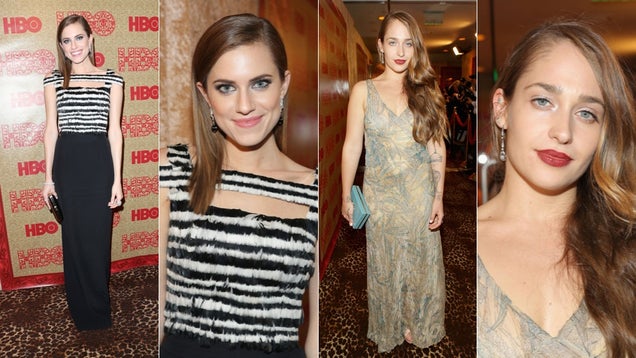 S
Allison Williams went in a bit of an unexpected direction in Alexander McQueen; Jemima Kirke wore exactly what you'd expect her to wear.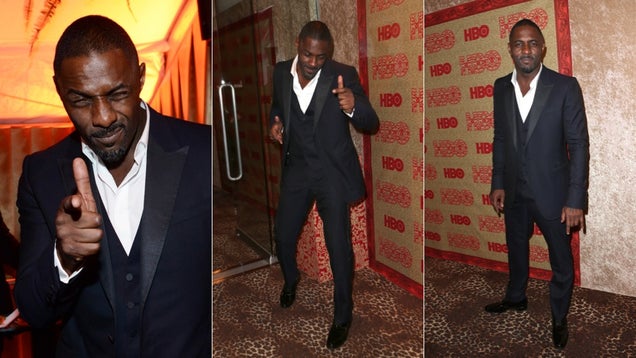 S
Idris "Your Boyfriend" Elba was there too.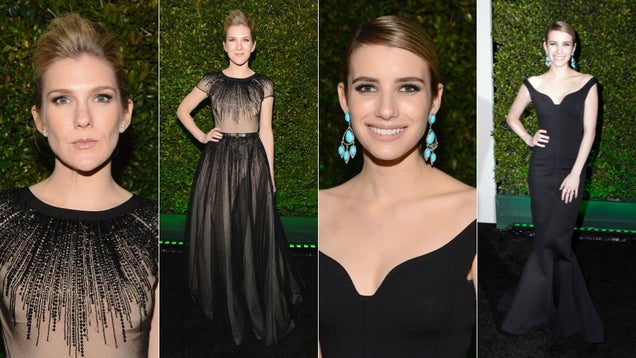 S
American Horror Story: Coven stars Lily Rabe and Emma Roberts oozed glamour at the Fox after-party. I said this last night, but I will repeat: I despise Emma's earrings.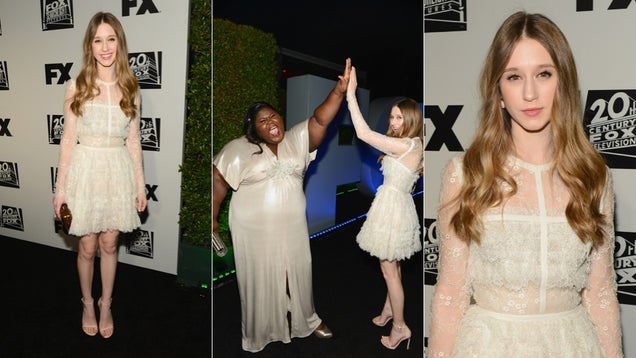 S
Taissa Farmiga (high fiving Gabby Sidibe) was one of the many women to embrace the sheer.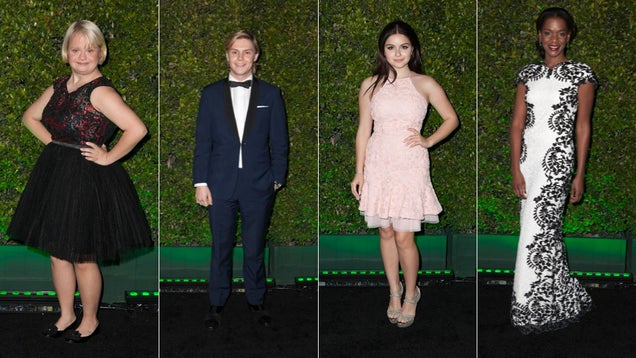 S
Glee's Lauren Potter, AHS Coven's Evan Peters, Modern Family's Ariel Winter, 12 Years a Slave star Kelsey Scott (her dress is sort of similar to Zosia Mamet's — whose do you prefer?).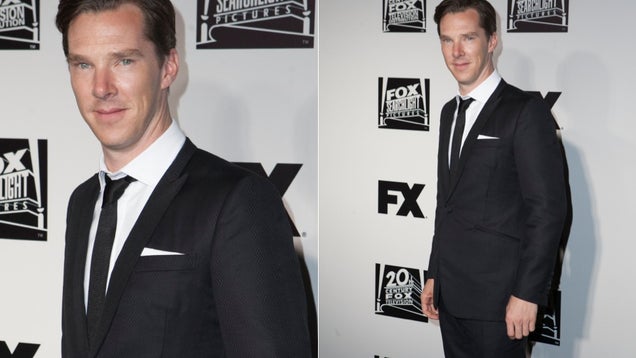 S
Benedict "Cheekbones" Cumberbatch was hanging out as well.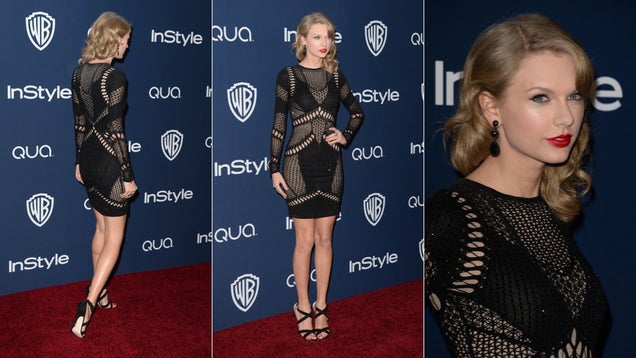 S
Taylor Swift changed from her glamorous ballgown into this Julien MacDonald number, which is quite different, to say the least — while revealing sheer dresses have become ubiquitous on the red carpet lately, this one is sheer crocheted. V. risqué, T-Swift.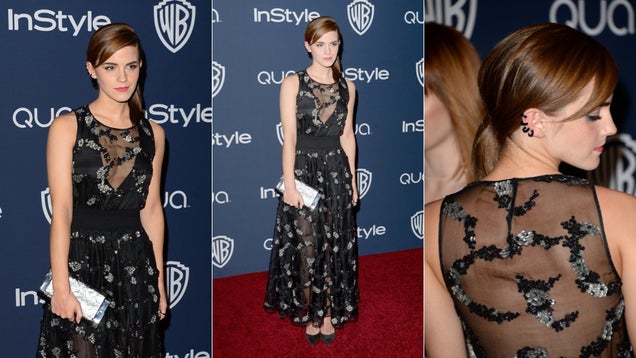 S
Emma Watson changed as well, out of her conceptual backless Dior garment and into this sheer, black, embellished dress (three for three!) by Theory. In other news, looks like edgy ear cuffs are coming in.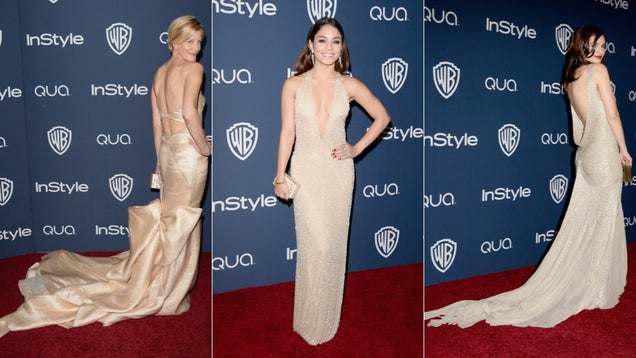 S
In plunging, glittery champagne hues, we have Anna Gunn, Vanessa Hudgens, and Emily Ratajkowski of Blurred Lines fame.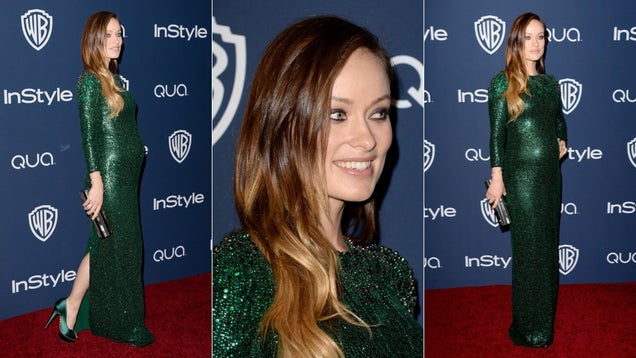 S
Olivia Wilde looked gorgeous in emerald Gucci.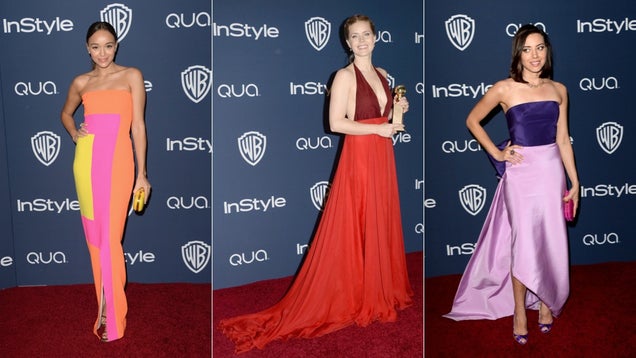 S
Color-blocking was a thing that happened frequently on this night. Here we have Ashley Madekwe, Amy Adams in Valentino (sadly, she ditched the glorious accompanying cape as the night progressed); Aubrey Plaza in Oscar de la Renta.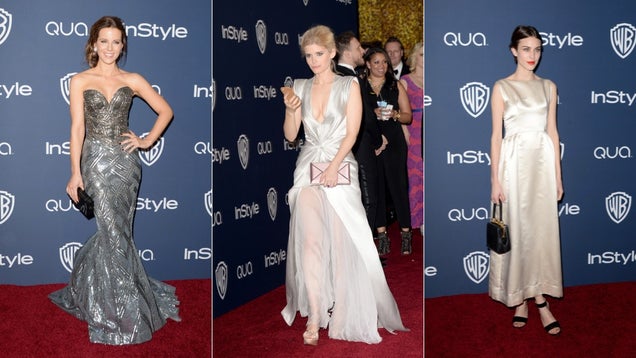 S
Kate Beckinsale had a slinky, seductive take on metallic hues in a curve-hugging Zahair Murad gown. Kate Mara went more ethereal (but also very seductive) in an extremely low-cut J Mendel dress, and she looks breathtakingly gorgeous; Alexa Chung went ethereal-demure.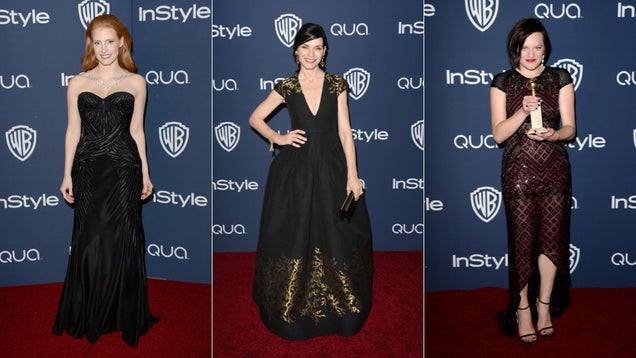 S
Jessica Chastain in Givenchy with subtle detailing; The Good Wife's Julianna Margulies looked seasonally-appropriate and regal; Elisabeth Moss had one of the night's most interesting takes on the sheer trend in a sequined J Mendel dress.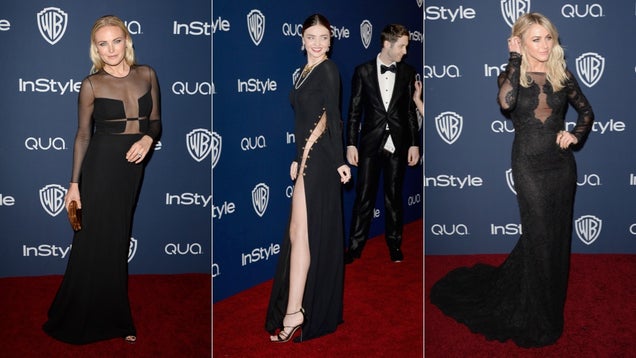 S
BLACK SHEER IS REALLY HAPPENING NOW, PEOPLE. Malin Akerman continued on her quest to master the innerboob; Miranda Kerr wore a very sexy Emilio Pucci dress (the leg slit goes up to her neck); Julianne Hough wore a less-good version of Cate Blanchett's dress, but it's still beautiful.
Images via Getty.