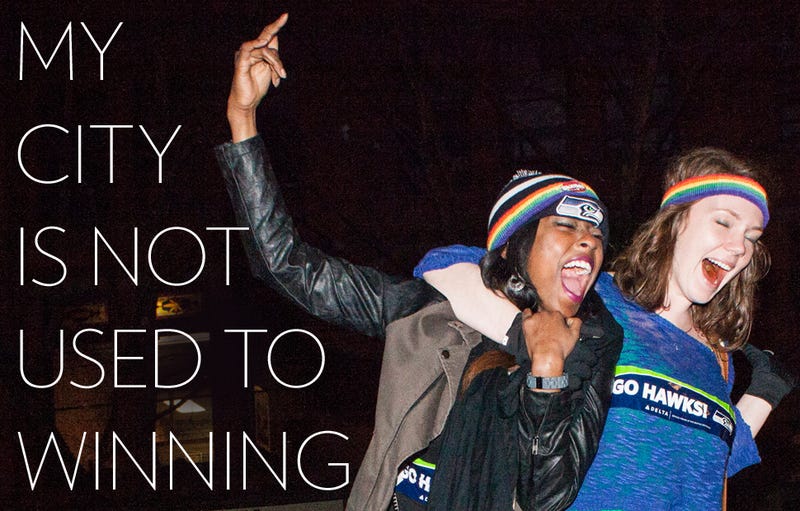 The Seattle I grew up in is not the type of city that wins Super Bowls. I mean that literally (it has never happened before), but also figuratively. Our last great success, grunge, was essentially the monetization of marginalization, of being a miserable white loser. Microsoft is a bunch of nerds proving their worth (or, at least, that's how their narrative reads), but even a rich nerd is still a nerd. Last night, though, the Seattle Seahawks didn't just win the Super Bowl—they fucking destroyed it, along with a lot of Coloradan hopes, the attention spans of half the nation, the concept of bowls altogether, Pioneer Square's historic pergola, and our perfect hiding place. We're not just some harmless, damp dorks up in the corner anymore. We're winners now.
First of all, WOOOOOOOOOOOOOOOOOOOOOOOOOOOO!!!!!!!
Second of all, does this feel like a bit of an identity crisis to anyone else?
A few weeks ago, Macklemore swept the Grammys. Before The Heist took off, Macklemore was seen as such a provincial, sentimental, Seattle-centric rapper that the city's blogs and weeklies sizzled with think-pieces about how he'd never be a viable national crossover (strangely enough, that Dave Niehaus tribute still hasn't quite blown up). And, if he did manage to make the leap, was his brand of relentless, almost contrived positivity (a less charitable critic might call it smarm) really an accurate representation of our dark, grumpy den of outsiders? Positivity is for winners, not for us.