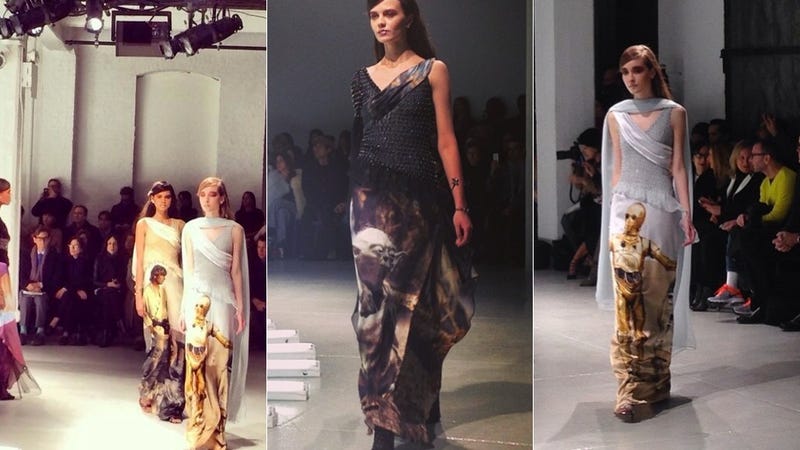 In maybe the best thing to happen at Fashion Week so far, Rodarte's show just closed with gowns printed with images of Yoda, Luke Skywalker, C-3PO and the Death Star.
(Sorry, Opening Ceremony's chocolate wall, you are no longer the most fun/bloggable thing this season has yielded.)
As one would expect, the emergence of the Star Wars-printed dresses prompted a social media flurry:
Pero buenooo @OfficialRodarte Aquí sí me han ganado! (¿has visto?? @marioximenez) #starwars pic.twitter.com/hbJ3WdF6Km

— Laia Cenea (@laiacenea) February 11, 2014
Oh my god, @OfficialRodarte 's DEATH STAR dress. All about Sci-fi fashion. pic.twitter.com/D01tvLFYag

— Veronica Gledhill (@fallingsequins) February 11, 2014
And here's photo proof. The force is strong with this one... pic.twitter.com/n2ztHYCgrL

— refinery29 (@Refinery29) February 11, 2014
Rodarte flirts with Star Wars - bravo girls !! @officialrodarte #nyfw #rodarte pic.twitter.com/YvgKvMxIDq

— Vs. Magazine (@vsmag) February 11, 2014
Stay tuned; we will have the compleat show in all its glorie, photographed on an actual camera, later today — in the meantime, let us ponder: WHICH CELEBRITY WILL GET TO WEAR THE YODA DRESS TO THE OSCARS?