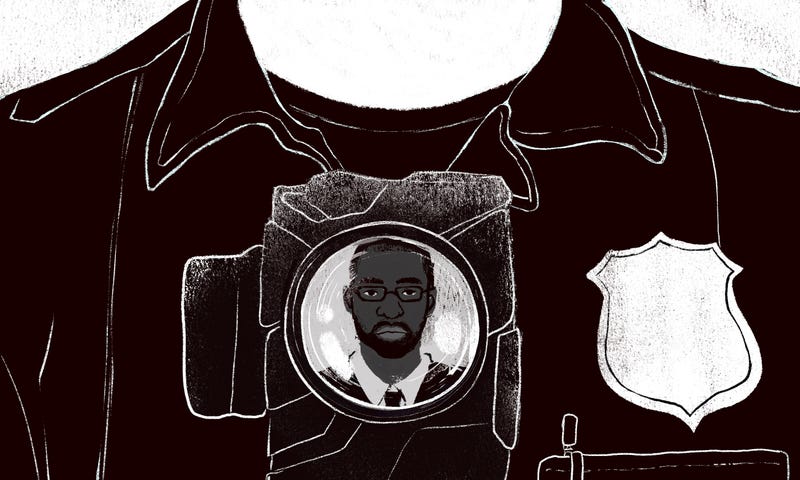 On September 11, police in Washington, D.C. shot and killed Terrence Sterling, a 31-year-old unarmed black man. What we know, so far: Sterling was driving a motorcycle around 4 a.m., which police say he was doing "recklessly." A witness, Kandace Simms, saw police pull in front of the motorcycle in a maneuver she sensed was an effort to block Sterling, after which the police car and Sterling's vehicle collided. According to Simms, the cop in the passenger seat, who we now know as Officer Brian Trainer, rolled down the window, stuck out his gun, and shot Sterling two times. Her account conflicts with the police narrative. The medical examiner has since ruled his death a homicide.

The body-camera footage released Tuesday, though, did not depict any of this. The cops' cameras were turned on only after the shooting, and what was released does not show us what transpired beforehand. Instead, it is a clip of an officer—Trainer or his partner; it's unclear—performing CPR on Sterling as he bled out, shot through the neck, and dying before his—and our—eyes. "Keep looking at me buddy, keep looking at me," the officer gulps.
DC Mayor Muriel Bowser ordered the release of the video after Sterling's family had viewed it, ostensibly to assert some level of transparency in a year full of demands to increase body cameras on cops, and to provide the public with some semblance of truth—that is to bolster the illusion that when citizens ask a police force for accountability, it will duly cooperate. Mayor Bowser, upon releasing the video, said as much, that she hoped to "create broader accountability between law enforcement and communities, and to maintain open and transparent government."
And yet the video does not illuminate anything new about what happened to Terrence Sterling that night. We already knew that he was shot, and that he died. It does not depict the actions that led to his death. The video would not be meaningfully distinct from a "snuff film"—as writer April Reign once put it—had it not shown us the part where the police were doing their jobs, performing CPR, trying to save a life despite the fact that it was they who had snuffed it out. We cannot have accountability without an actual accounting, however: For what exactly happened before Sterling was shot, for what happened not in the moments when the police looked their best as they gave CPR to a dying man, but the moments when they likely looked their worst. This footage is not that. This footage is police propaganda being called transparency.