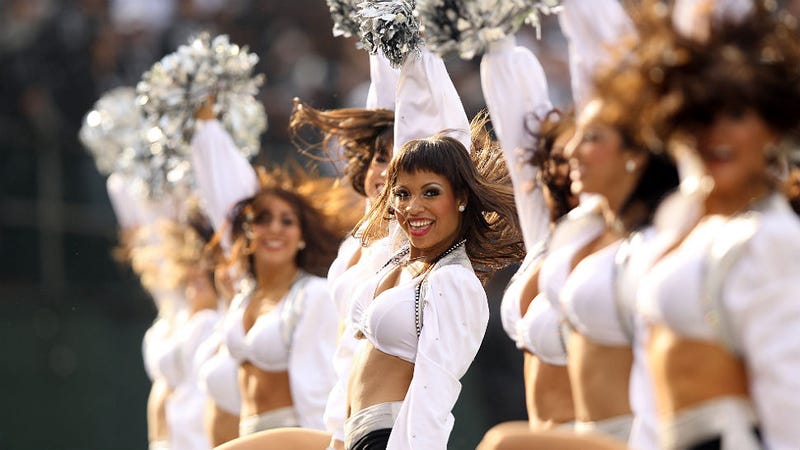 The Oakland Raiders are being sued by not one, but two Raiderette cheerleaders in a wage theft suit. The team has reportedly done everything from force them to pay for their own travel to offering condescending advice on how not to end up date raped. Gee, thanks.
Lacy T., the first to file suit, and co-captain Sarah G., who followed her lead, spoke to Salon about their motivations and it's not pretty. For example, in one of the many allegedly illegal provisions they say their cheerleading contract contains, the Raiderettes receive one paycheck, ONE, for the entire season.
Lacy: For instance, in California, it's required that you get a paycheck every two weeks. These Raiderettes start their season … in April, and they do not get their one and only paycheck until the following January …

The contract calls for them to get paid $125 for each game. Game days are 10 hours long — they do not get paid the two hours overtime …

According to the contract, they're not to be paid for practices, they're not to be paid for charity appearances …

So there are hours and hours and hours, according to the contract, that are put in, that are completely unpaid.
On why Lacy filed the suit in the first place:
Lacy: ... When I first decided to take my contract to this law firm, and all of my fears I guess you could say were confirmed, I knew that I definitely wanted to pursue the lawsuit and make a big change — not only for the Raiderettes, but hopefully for the entire NFL and their cheerleaders. …

I came from an NBA team — I danced with the Golden State Warriors for two seasons, and …they paid us more than the minimum wage. I got paid for every hour I worked, on two-week periods. I had zero out of pocket expenses.

So coming from that and joining the NFL, and with the Raiders, right off the bat I was spending money out of my pocket. Week after week I was traveling to these photo shoots and mini-camp. And it was the point when I said, "Wow, I've spent over $500 this month, and I'm not going to even see a paycheck until next year?"
Thanks to their suit, their days as Raiderettes are probably over:
Lacy: I don't think that we're going to be welcomed back with open arms.
But being advised on things like how to eat properly in that Raider handbook wasn't offensive: