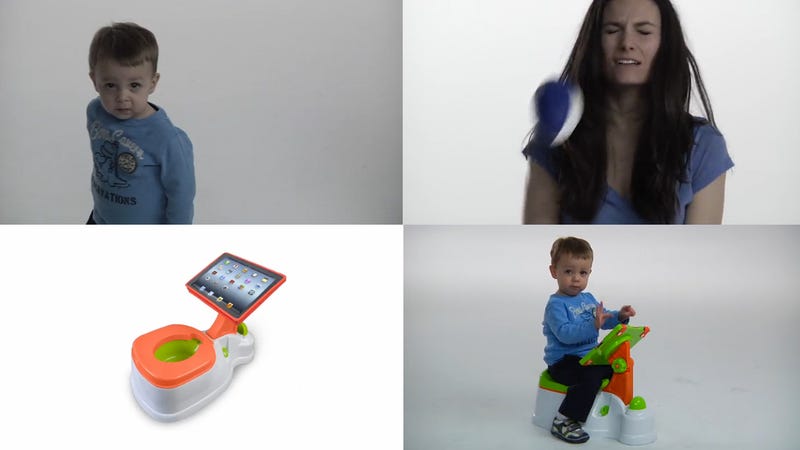 So, okay, somebody invented a potty chair with a mount for your iPad. Okay? Somebody did that. And the idea is that, to incentivize learning to shit properly, you let your kid play with your iPod while their poop is coming out, and THEY FUCKING LOVE IT, and potty training becomes a totally-pun-intended breeze (see, because like farts). And then...you run your iPod through the dishwasher or something? I guess? To GET THE POOP OFF? That's this thing. That's this invention. You can have it if you want. Go nuts.
This helpful video over at Amazon (screencapped above) demonstrates how the iPotty works. Basically, the mom is like, "Hey! Kid! Shit in the thing! I'm tired of having your shit on me!" And then the kid goes, "Fuck you, lady! Eat Nerf!" And then the mom [bleeding from the nose and gums] is like, "But if you shit in the thiiiiiing, you can also spray urine on mommy's incredibly expensive computer deviiiiiiiice!" And the kid is all, "KA-CHINGGGGGG!!!" [Everyone dumps in unison.] Fin.
Sounds like a plan.
Now, I'm deeply disdainful of the knee-jerk Luddism that infuses so much of our discourse about modern technology. What's the point of inventing amazing, near-magical technological wonders if we're just going to shame people for using them? That's dumb. My boyfriend's kids have iPads (not bought by us), and yes, their little eyeballs can be difficult to unglue. But at the same time, they're making short films on their iPads. They're listening to Mariah Carey (I'm SO PROUD) and reading about whales and watching instructional YouTube videos on how to draw manga-style portraits of Harry Styles. It's really not that different from what I was doing when I was a kid. So why demonize this fucking incredible machine?