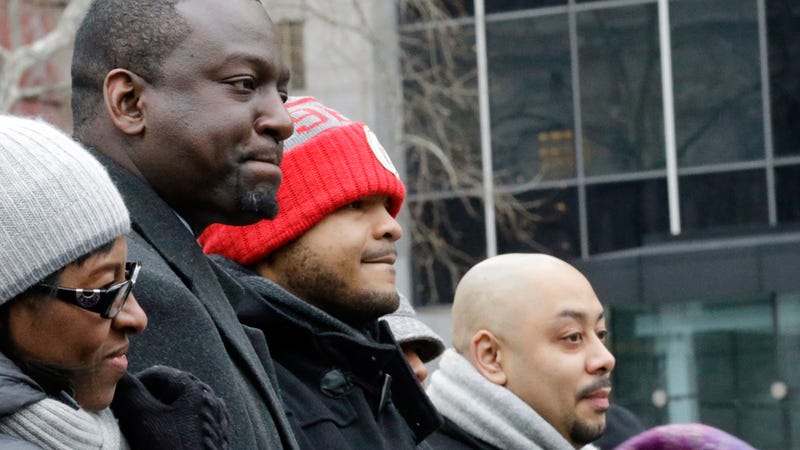 New York City has reached a settlement with the Central Park Five, the group of men who — in 1989 — were charged with and convicted of the rape and battery of a woman in Central Park, only to be proven innocent and have their convictions overturned years later, after they had served their full sentences. The city has agreed to pay them $40 million in reparations.
The case of the female jogger who was brutally assaulted while running through Central Park attracted international media attention in the late '80s. Kevin Richardson, Antron McCray, Yusef Salaam, Raymond Santana Jr., and Kharey Wise — a group of 14-16 year old African American and Latino boys (eventually known as the Central Park Five) — were accused of the crime and, in interrogation, all five confessed and indicted each other in the attack. In the following weeks, the boys recanted, claiming that they had been coerced and intimidated into their confessions by the NYPD. Still, they were tried and found guilty. Wise, who was given the longest sentence, served 13 years, while the rest served 7.
(Note: The victim Trisha Meili, who revealed her own identity and wrote the book "I Am the Central Park Jogger," had no memory of her assault and was unable to identify a culprit.)
In 2002, the Central Park Five were exonerated when Manhattan district attorney Robert M. Morgenthau found evidence that whoever had assaulted Meili had acted alone. Matias Reyes, a convicted rapist and murderer, confessed to the crime. His confession was supported by DNA evidence. Since then, Richardson, McCray, Salaam, Santana and Wise have been in a legal battle with New York City, with all five of them — quite fairly — seeking financial reparations for the injustice they experienced.
Mayor Bill de Blasio, who has been in office since January of 2014, was in favor of the settlement, unlike former Mayor Michael Bloomberg who claimed, according to the New York Times, "that the authorities had acted in good faith and with cause, and should not be held liable."