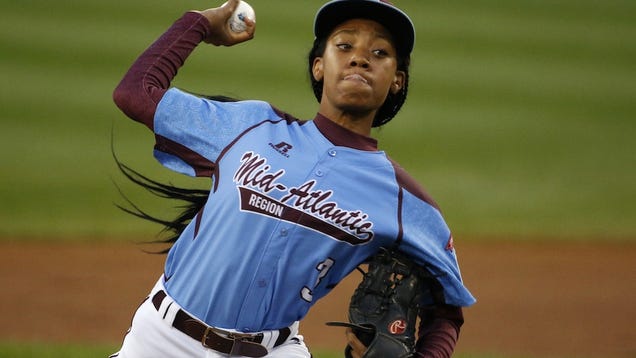 Mo'ne Davis, Sports Illustrated-anointed Little League star, unfortunately couldn't make it out of the third inning in her game last night. She remains better at baseball than 99.9 percent of Americans.
That's according to ABC News. Davis and her Philly teammates were up against a team from Vegas when she gave up three runs (though she did strike out six batters in just two-and-a-third innings). She was then moved to first base which, as the New York Daily News points out, keeps her eligible to pitch in the Little League championship game this weekend, provided she stays off the mound Thursday and her team advances. (That's due to league rules about pitch counts.) Saturday is shaping up to be a barn-burner, so tailor your weekend plans accordingly.
Lil Wayne remains a devoted supporter:
YMCMB-Young Mo'Ne Cash Mo'Ne Baseball!!!

— Lil Wayne WEEZY F (@LilTunechi) August 20, 2014
Photo via AP Images.