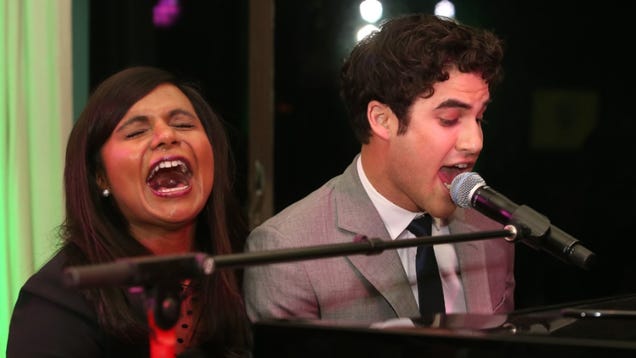 In today's Tweet Beat, Mindy Kaling prefers music that encapsulates the deep profundity of what it is to be alive, Ryan Seacrest forms a modern-day holy trinity with Martha Stewart's dog and car, and Zach Braff isn't letting Zooey Deschanel off the hook for Fox's closed captioning mistake.
Love, sex, redemption, revenge, regret, hot butts, these are the subjects of music I like. EVERYTHING ELSE, NO INTEREST WHATSOEVER

— Mindy Kaling (@mindykaling) April 22, 2013
Here is the photo of my dog,my car, and ryan seacrest asking GK if he had had a blow dry!! twitter.com/MarthaStewart/…

— Martha Stewart (@MarthaStewart) April 21, 2013
Even though it was a typo, I'm still gonna keep a close eye on @zooeydeschanel

— Zach Braff (@zachbraff) April 22, 2013
no one can make a hippie low budget weed seller look like a deadly criminal capable of terrorism better than dog the bounty hunter. #HESBACK

— Aubrey O'Day (@AubreyODay) April 22, 2013
Ann Coulter gave me a hickey in 2001 and I've been struggling with Lyme ever since.

— Paula Pell (@perlapell) April 22, 2013
Come at me, bro #melbourneaquarium #penguinattitude #babies twitter.com/joshgroban/sta…

— josh groban (@joshgroban) April 22, 2013
So excited for a new episode of #mobwivesreunion on @vh1 ! Love this show! 1 minuet countdown!

— Heidi Montag (@heidimontag) April 22, 2013
The only thing I resent twitter for is ruining the word "twitterpated" which *was* a solid go-to in my daily dialogue.

— olivia wilde (@oliviawilde) April 22, 2013
Portland is the only city in America you can tip the strippers in bitcoin.

— Moshe Kasher (@moshekasher) April 22, 2013
Cockatoos are back for twilight, must have found some cousins, even louder now... I see it only as a blessing and good fortune

— Russell Crowe (@russellcrowe) April 22, 2013
Happy Earth Day!! twitter.com/peeweeherman/s…

— Pee-wee Herman (@peeweeherman) April 22, 2013
There are 3 sex shops within walking distance from my hotel in Berlin. Grocery store would have been a bonus but I'm not gonna get greedy.

— Anna Kendrick (@AnnaKendrick47) April 22, 2013
Waaaait a second. A girl into marionettes and Wiemar writes a poem, and people are affected by it? I WAS TOLD HIGH SCHOOL WAS OVER.

— Julie Klausner (@julieklausner) April 22, 2013
My cohost's retainer. In my edamame. So that's nice. twitter.com/alexa_chung/st…

— alexa chung (@alexa_chung) April 22, 2013
Happy Earth Day! I hope you find a way to give love to our planet today. I'm giving every squirrel I see a Walgreens gift card.

— Ellen DeGeneres (@TheEllenShow) April 22, 2013
When I'm drunk in public I always tell cops I'm Reese Witherspoon to get out of going to jail. Can't believe it didn't work for her.

— Jenny Johnson (@JennyJohnsonHi5) April 22, 2013
Now twitter.com/MiaFarrow/stat…

— mia farrow (@MiaFarrow) April 22, 2013
Me and @katcoiro just had our babies blessed by @snoopdogg today. No big deal.say.ly/QfV5Eyh

— Evan Rachel Wood (@evanrachelwood) April 22, 2013
I really need to turn off these @cnn alerts. It's like dating a girl who constantly texts you about her horrible day.

— Dane Cook (@DaneCook) April 22, 2013
Still celebrating 4/20? Bob Marley lives on! #nowthatsludicrous instagram.com/p/Ya-a9swa-4/

— Ludacris (@Ludacris) April 22, 2013
Image via Getty.