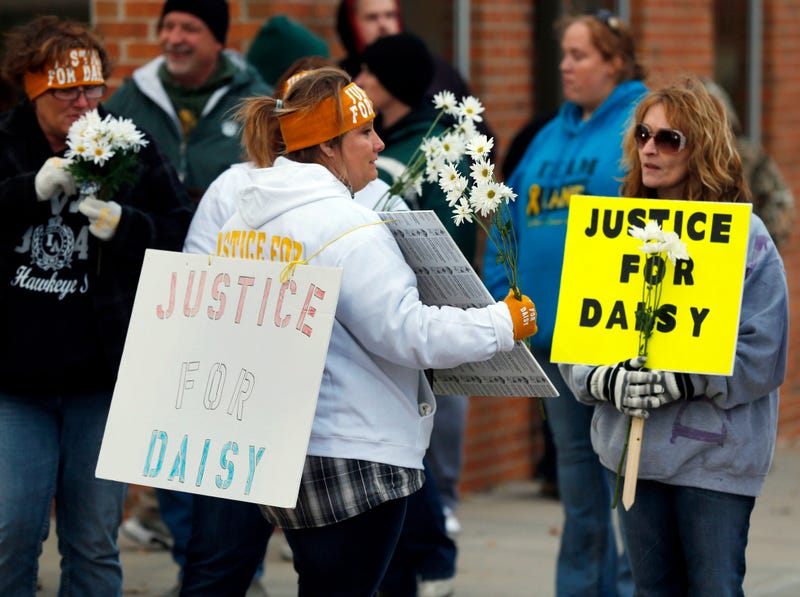 When the recent rape case to come out of Maryville, Missouri was first announced, it immediately garnered comparisons to Steubenville, Ohio, and for good reason: many details of the cases appeared strikingly similar. But after almost 500 people attended a rally for Daisy Coleman in Maryville, Missouri outside the Nodaway County Court House on Tuesday, it's starting to look like the evolving story lines of these cases are moving in different directions.
BuzzFeed's Jessica Testa attended the Maryville rally, which was labeled a "Rally for Justice"; people who came carried daisies. Testa spoke with a man in attendance, Jason Yarnell, who said, "This idea that Maryville, as a town, has swept this under the rug — that's not how it is. I'm pro-justice, but please don't think that means I'm pro-rapist. I just want to know the whole truth." (Testa also as a fascinating piece about how University of Central Missouri, the school Matthew Barnett attends, has responded to the case; there are rumors he has left campus.)
When the Kansas City Star article came out that prompted Daisy Coleman's case to be reopened, it alleged that Coleman and her family had been the subject of numerous threats, cyber and non. Maryville was painted as a tight-knit community of people that viewed the family as outsiders (they had moved there only shortly before alleged rape occurred). It looked like the town was standing in support with Matthew Barnett and his well-connected family. But now, members of the community seem hell-bent on proving that they're more than that – a sentiment that Coleman and her family have been supporting as well.