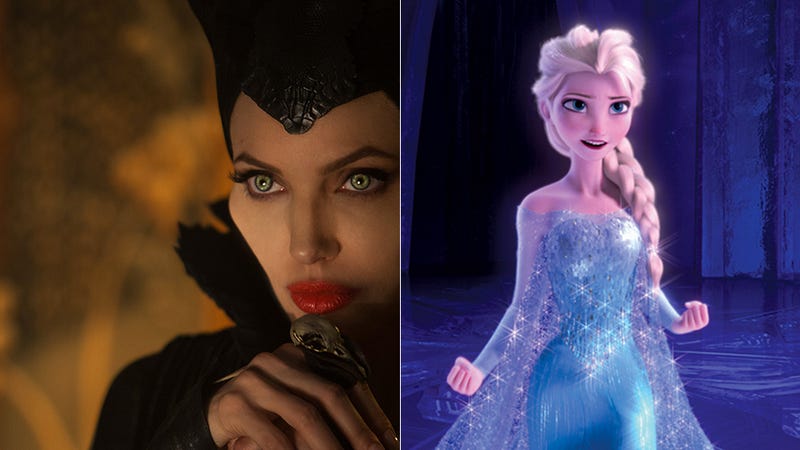 Disney's dark, villain-centric flick Maleficent — a re-imagining of the Sleeping Beauty tale — raked in $70 million from North American box offices this weekend — and another $100.6 million overseas. This was, as The Hollywood Reporter puts it, "thanks in large part to girls and women."
Call it the Frozen fan base, if you like: the ladies Disney drew in are also responsible for making Frozen the fifth-biggest film in box office history.
THR's Pamela McClintock writes:
Observers believe Maleficent benefited greatly from targeting girls and moms, the same core audience that turned Disney's Frozen into a global Goliath. Females made up 60 percent of the audience, while 30 percent of ticket buyers were under the age of 18.

Maleficent, co-starring Elle Fanning as Princess Aurora and rated PG, also did sizable family business (45 percent) after earning an A CinemaScore (reviews were decidedly mixed). It likewise proved a big draw for couples (40 percent).
McClintock also notes that this marks the best opening weekend of Angelina Jolie's entire career.
While Nolan Feeney at Time points out that critics hated Maleficent, Dave Hollis, Disney's head of distribution, tells Entertainment Weekly that the opening weekend success is "a nod to the draw of Angelina Jolie. She has had such extraordinary passion for this role."
But the movie's success also has to do with Maleficent herself: A strong female character. Like Frozen, Maleficent centers itself around a woman with power. Linda Woolverton, who wrote the screenplay for Maleficent — as well as the scripts for Beauty and the Beast and The Lion King — tells The Daily Beast that things have changed at Disney.