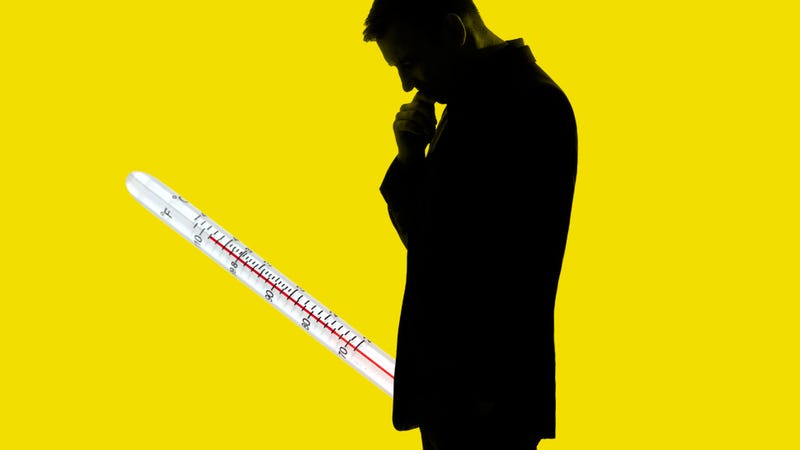 Like a lot of unchaste women, I take birth control every day. I do this because, as an underemployed person, I am not interested in housing a baby Meags in my Meags-parts. It sure would make my life easier if my man-friend-for-life had to shoulder some of the burden in this scenario. But, as is painfully obvious to most women when considering their reproductive options, reliable contraceptive options for our male counterparts are limited to a vasectomy or the ol' not-so-trusty condom.
Why is that? Is it because gentlemen are too busy making all of our business deals and playing all of the holes of golf? Haha, no, it's for the normal reason that pharmaceutical companies don't want to do anything unless it nets one quazadrillion bucks. Thanks, gang!
According to Jalees Rehman, a physician at the University of Illinois at Chicago, there are two forms male birth control might take: a hormonal or non-hormonal method. Either approach would be a game-changer for women who can't take oral contraceptives or use IUDs due to potentially fatal side effects. Sorry gals, the profit margin just isn't sizable enough for the pharmaceutical industry to care. Hormonal methods of male birth control have been largely abandoned, due to questions of efficacy, safety, and yes, lack of profit. But Dr. Rehman argues that the efficacy and safety issues could be addressed with better clinical trials, which the pharmaceutical companies won't sponsor due to fears of efficacy and safety. "We have reached an impasse," Dr. Rehman says.
As far as a non-hormonal approach, a doctor in India has developed "reversible inhibition of sperm under guidance" or "RISUG." RISUG is an affordable chemical vasectomy that works by, and I'm paraphrasing here, injecting something into something else and then some science happens and the sperm doesn't impregnate anyone. The non-profit foundation that obtained the rights to the RISUG approach is pursuing clinical trials here in the US, but it's uncertain whether the method will be generally or widely available after that. This is mostly because RISUG doesn't stand to make much money. RISUG is made from inexpensive materials, and one injection is effective for a number of years—not particularly attractive to the pharmaceutical industry.