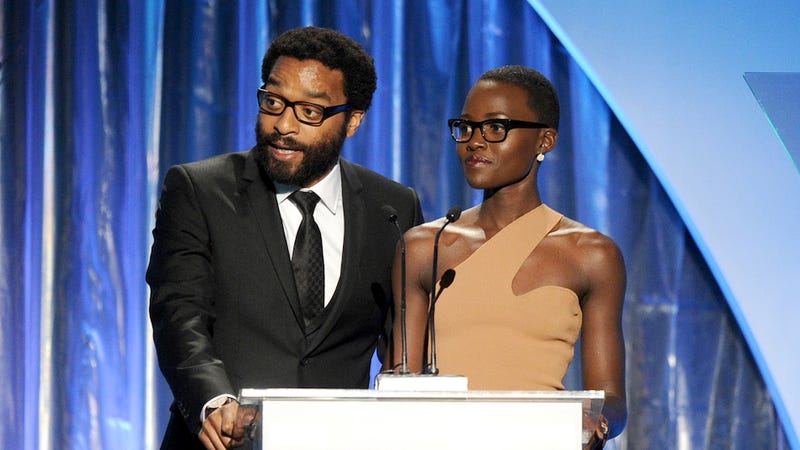 If you've been following the pre-Academy Award awards (and you believe the pre-show hype), then you know consensus dictates Cate Blanchett or 12 Years a Slave are pretty much locked down for Best Actress and Best Picture, respectively. But when it comes to two other big categories — Best Actor and Best Actress in a Supporting Role — we've got a big, interesting question mark. That's because Chiwetel Ejiofor and Lupita Nyong'o are both up for awards for their performances in 12 Years a Slave.
This movie has the most sustained awards hype as we get closer to Sunday night's ceremony, but so far all signs do not point to a sweep by the film in the acting categories. A look at the other major awards results, which have historically serve as leading indicators for key Oscar races (and even that of February 23rd's NAACP Image Awards) show that neither Nyong'o nor Ejiofor winning at the same the time. In fact, the Golden Globes had neither winning period. Let's examine both actors' wins and losses a little more closely, as well as other predicting factors, to make an educated guess as to which 12 Years a Slave performer will get to stand up on that stage tomorrow night.
Best Actor
We've been hearing about Matthew McConaughey's weight loss for Dallas Buyers Club since 2012, especially after a hot streak of movies (Bernie, Killer Joe, Magic Mike, Mud, The Wolf of Wall Street) that has transformed him from rom com zero to character acting hero (sorry). By hyping this film and his physical transformation for it, McConaughey has been gunning for the 2014 Oscar in order to cement his career renaissance. It doesn't hurt that his miniseries, True Detective, is also earning him raves while he makes the film awards circuit.
Now, the race gets murkier. The Oscar would definitely be Wooderson's award to lose, were it not for Ejiofor winning the BAFTA on February 16th. Except that McConaughey wasn't even nominated for a BAFTA, which is super weird and might show that the Ejiofor win was a fluke. On the other hand, The BAFTA Best Actor winner predicts the Oscar Best Actor winner 43% of the time, according to this analysis. But on the other hand, that's the UK, and this is America! Hollywood loves a comeback story, and the McConnaissance we're currently living through is an especially irresistible iteration.
Best Supporting Actress
Lupita Nyong'o lost the Golden Globe to Jennifer Lawrence, as well as the BAFTA, but she's won the Critics' Choice and the SAG. This race therefore seems neck-and-neck between the newly minted It Girl and red carpet darling. Can America's BFF continue to fend off a backlash? Or is Lawrence's quiet non-campaign for the award akin to bowing out gracefully?