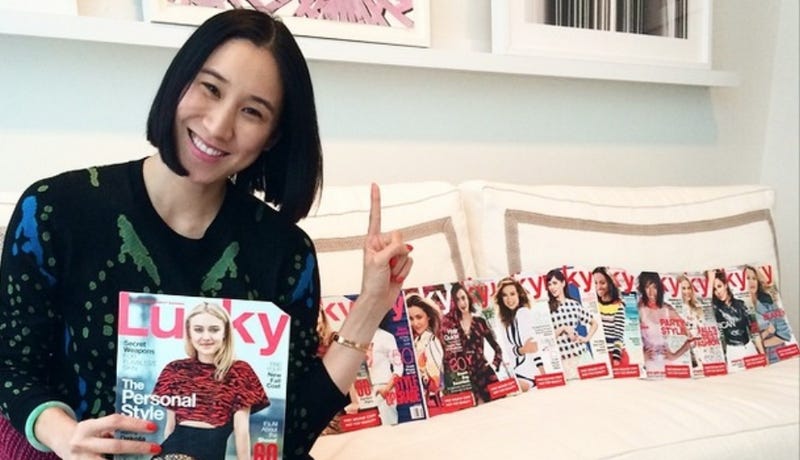 After a tumultuous few years, Lucky magazine is leaving Condé Nast and teaming up with BeachMint (the ecommerce company responsible for websites like StyleMint and JewelMint), to become "a wholly independent entity" called The Lucky Group.
The company announced the change Monday in a press release, which explained that the transition will happen in the next six months or so:
In early 2015, in addition to enjoying Lucky's print, digital and mobile content, consumers will experience a new e-commerce destination that will feature Lucky's distinctive voice and aesthetic, underpinned by BeachMint's expert technology, customer service and commerce operations. As content and commerce converge and consumers' demand for shoppable media grows, The Lucky Group will be immediately positioned to serve the thriving marketplace.
Current Lucky editor Eva Chen will be chief creative officer of the new endeavor, Lucky general manager Gillian Gorman Round will be president and BeachMint's Josh Berman will be CEO. Despite Condé Nast's supposed lack of involvement, Anna Wintour's will continue to be "an advisor" to The Lucky Group and they will still have a majority share in the company so they won't be that separate. It doesn't look as though layoffs should be expected; rather, Lucky will take their editorial and business teams with them. They will still publish a print magazine.
It's an interesting move for the brand, which has been struggling, despite Chen's much-heralded takeover of the magazine last year. But it makes perfect sense: even before turning to digital, Lucky was the publication above all others set up to become a literal shopping experience (their tagline is "The magazine about shopping). Monetizing that experience (which can be alternatively viewed as blurring the lines between editorial and advertorial content) is an experiment that many women's magazines have been exploring over the past few years. For BeachMint – which has raised a ton of money over the past few years but has struggled with direction – the partnership grounds them in an actual future.