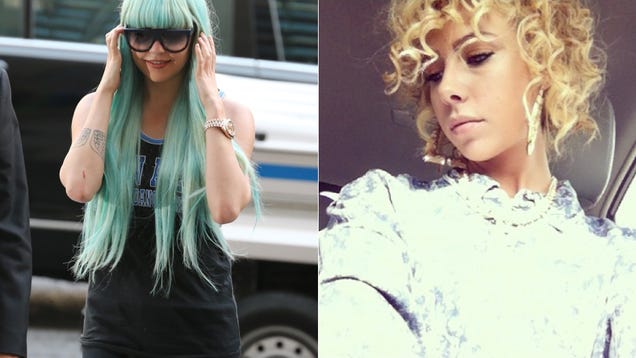 In today's edition of Tweet Beat, Lil Debbie requests the presence of Amanda Bynes, the spawn of John McCain professes her love for a sk8r classic, and Ellen mourns Talia Castellano.
@amandabynes where you at I'm in New York

— Lil Debbie (@L1LDebbie) July 16, 2013
Favorite kicks since middle school. #vans #classic #SomeThingsNeverChange pic.twitter.com/2kGo79nYOE

— Meghan McCain (@MeghanMcCain) July 16, 2013
This year I met a very special girl, and today we lost her. Sending my heart to Talia's family. I'm so sad.

— Ellen DeGeneres (@TheEllenShow) July 16, 2013
Today's look: belted tarp.

— Samantha Bee (@iamsambee) July 16, 2013
LETS PLAY A GAME CALLED "YOU WALK AWAY FROM ME AND STOP HARRASSiNG ME SO THAT U DONT SCARY AWAY THE CUTiES"

— RiFF RaFF (@JODYHiGHROLLER) July 16, 2013
BTW, I ain't going nowhere. I want as many jobs as my greedy ass can handle.

— Andy Richter (@AndyRichter) July 16, 2013
I'm not a big yoga person but about every six months I decide to try it again lol Off to yoga!

— Ramona Singer (@ramonasinger) July 16, 2013
My son just told me that I am old and he is new. #toddlertruthtelling

— Jenna Fischer (@jennafischer) July 16, 2013
Amazing. Amazing! AmazingAMAZING RT @AP BREAKING Liz Cheney, daughter of Dick Cheney, says she'll challenge Sen Mike Enzi nxt yr.

— Rachel Maddow MSNBC (@maddow) July 16, 2013
I just want to be loved by anonymous people I don't give a shit about on the internet. Is that so wrong?

— Michael Ian Black (@michaelianblack) July 16, 2013
Great! RT @janzyland: know a baby in LA who needs #breastmilk? i have a freezer full of #organic, #glutenfree milk to donate. lemme know!

— Jenna Elfman (@JennaElfman) July 16, 2013
Unless I missed an international news story, the TV show "Finding Bigfoot" should probably be called "Not Finding Bigfoot"

— chris pratt (@prattprattpratt) July 16, 2013
Next special issue: "Why are THEY still hanging around?" http://t.co/DlM2uO1Gbk

— Al Yankovic (@alyankovic) July 16, 2013
It would have been way more anticlimactic if the video game had been called "Where in the World is Carmen? San Diego."

— Megan Amram (@meganamram) July 16, 2013
Hey fashion designers, help a bitch out and bring parasols back. Thanks a heap. - pale chicks

— Anna Kendrick (@AnnaKendrick47) July 16, 2013
Daily Game: Your ultimate opponent in the game of life will be your OWN ego. Remember PRIDE is one of the 7 Deadly Sins.

— ICE T (@FINALLEVEL) July 16, 2013
A prescription for a culture war. pic.twitter.com/Jjh1igJTOq

— George Takei (@GeorgeTakei) July 16, 2013
"My kitten ate my script", is the new "my dog ate my homework." #ActuallyHappened

— MichelleTrachtenberg (@RealMichelleT) July 16, 2013
I think I just got groped by the Tupac hologram in a Denny's bathroom.

— Zach Braff (@zachbraff) July 16, 2013
What is the difference between eating a donut and saying I want to die?

— Jim Gaffigan (@JimGaffigan) July 16, 2013
"You're not smart enough to know how smart you are." - Dulce Rittner my housekeeper/nanny for 25 years.

— John Stamos (@JohnStamos) July 16, 2013
stop flexin

— Soulja Boy (@souljaboy) July 16, 2013
Had a wonderful Grandma Week with Cooper, but chasing 12 year old boys is exhausting. Where did Jerry Sandusky get the strength?

— Joan Rivers (@Joan_Rivers) July 16, 2013
Image via Getty and Twitter.