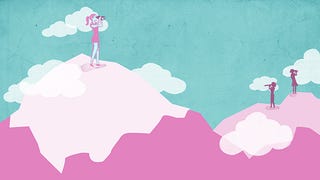 You know who you are. The Pill made ya crazy. Mirena gave you horrible cystic acne. The Patch gave you a blood clot. And so on. So it goes for women who, for whatever reason, just cannot find a good birth control for their particular body and sitch that doesn't make them feel like some kind of shit. This one is for you.
I'm not anti-birth control and am not discouraging its use. I want to use it more than anything! Birth control is an essential part of reproductive health and freedom for women regardless of whether you're preventing pregnancy or just need to chill your periods out, and there are a bazillion options now and that is a wonderful thing. Finding a good birth control is a battle worth choosing. But make no mistake, that fact that so many supposedly great options exist makes it even worse for those of us who have no good luck with any of them.
Of all women of reproductive age, 62% are using some form of birth control, according to CDC statistics (four out of five ladies have tried the Pill at some point or another). But about 30% of women bail on the Pill for one reason or another, 60% of whom cite side effects (see this chart from the CDC concerning women age 15 to 44, from 2006 to 2010, pg. 14). Forty-eight percent bailed on the Patch, and 46% on the Depo shot. These stats don't include IUD use, but one study found that 11% of adult women had an IUD removed. A WHO chart showing cases of discontinuance among IUD users in 14 developing countries shows that fewer than 5% do so, mainly for health reasons.
But, as many of my own gynecologists have told me, there is no perfect birth control, only that which has the least side effects and most fits your needs. And the fact that women stop one method and try several options before settling on the right one is not necessarily a slamming indictment: everybody is different; the odds of a one-fits all birth control method with zero side effects is not realistic; the Pill, and especially IUDs are a great solution for many lucky women, and awareness is increasing.