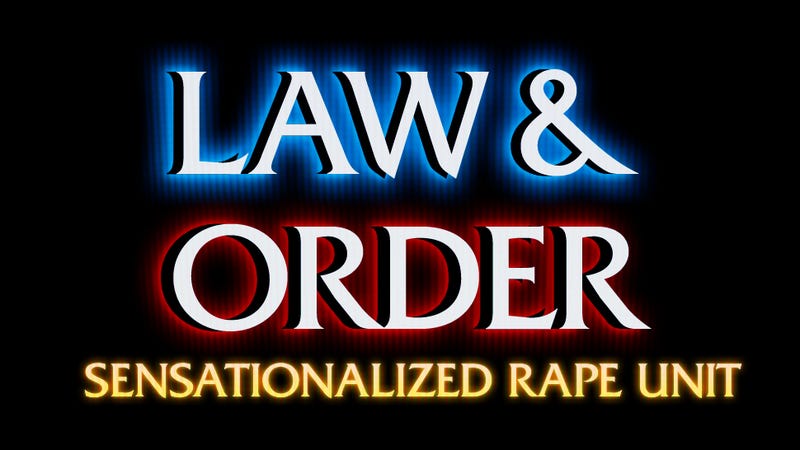 Last night Law & Order: Special Victims Unit aired "Girl Dishonored," essentially a greatest hits compilation of recent highly-publicized college rape cases complete with zeitgeisty references to Snapchat and "Gangnam Style." The episode's standard disclaimer — "The following story is fictional and does not depict any actual person or event" — is utter bullshit, given that SVU writers stole lines straight out of survivors' mouths; cobbling together so many parts from real-life stories into one plotline had a Frankenstein effect.
We spoke with the women who directly inspired "Girl Dishonored" to figure out whether the episode spread awareness or was just a titillating "rape porn" hodgepodge.
Here's the basic plot line of "Girl Dishonored": naive sorority pledge Lindsay Bennett is pressured by her Mean Girl sisters (who have, naturally, circled all of her body fat with red marker) to take a photo of Tau Omega brother Travis's dick at a "Red Light, Green Light" party. (Green = "DTF.") Travis sweetly asks a drunken Lindsay for a kiss; moments later, he's gang-raping her along with two of his bros. A devastated Lindsay almost jumps off a ledge, but decides to report the incident instead. Detective Olivia Benson and Co. obviously and soo realistically believe Lindsay and want to help, but the school nurse told her to shower which messes up the rape kit. To make matters worse, Lindsay Snapchatted a topless photo of herself to Travis the next morning upon request, which is now all over an anonymous slut-shaming site. Her peers tell Benson that they're sorry Lindsay had a bad night but she's probably just "embarrassed she got slutty"; Travis says there's no doubt in his mind that "kinky" Lindsay clearly "wanted it."
Lindsay decides not to press charges because she remembers what happened to a former student named Renee Clark, who is now undergoing shock therapy in a mental institution because no one believed that Travis raped her. Benson and Co. convince Renee to speak up even though she's wary of authority because the administration covered her rape up and pressured her to commit herself to the institution. Dean Meyerson says Renee is a "troubled girl from a broken home," while Travis is set to graduate with honors. Can the detectives check out the files? Nope; they're sealed. Soon, more survivors speak up (including that bitchy sorority girl) and Dean Meyerson ends up lying on the stand about how the school reports all rapes even though we know THEY SO DID NOT.
"Our students chose a progressive liberal arts university for a reason," Dean Reyerson says when asked to defend "No means yes, yes means anal" chants and "We don't take 'no' for an answer" rush t-shirts. Eventually — thanks to a video of the rapists joking around à la Steubenville — Dean Reyerson and the head of campus security are charged with "accessory to rape," but not before Lindsay kills herself. Renee, now out of the mental institution and preparing to go back to school, pays her respects at Lindsay's makeshift memorial while students silently hold up signs protesting rape culture in the background. "I was thinking about maybe starting a kind of support group on campus, so survivors know they're not alone," Renee says.
Here's a rundown of some "Girl Dishonored" plot points and the corresponding real-life incidents.
SVU: Lindsay is gang-raped by three frat guys who later claim she's crying rape because she's embarrassed about her slutty behavior.
Real Life: Four University of Montana football players allegedly gang-raped a drunk female student; charges were dropped because it was unclear whether she was "just embarrassed" about what happened.