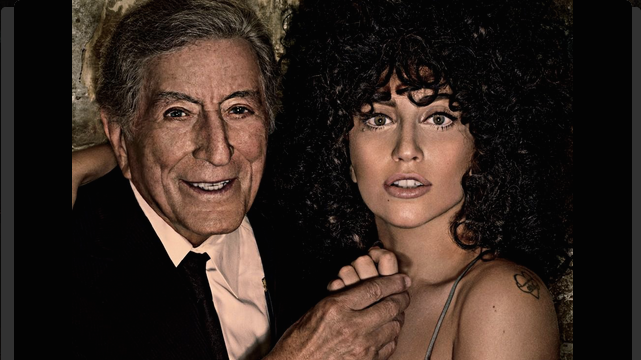 In today's Tweet Beat, Lady Gaga releases the album artwork for her upcoming duets album with Tony Bennett, Conan O'Brien has a brilliant invention and Ellen gives the Hollywood weather report.
Pre-order begins 8/19 US/Can/Mex, 8/20 rest of world for 'CHEEK TO CHEEK' My Jazz album with @itstonybennett pic.twitter.com/yNmXFyjGie

— Lady Gaga (@ladygaga) August 18, 2014
Artwork For #CheekToCheek by the incredible Steven Klein @SKstudly I love this photograph, and very honored to be in it with my Tony.

— Lady Gaga (@ladygaga) August 18, 2014
We were just standing there talking, laughing, singing. Then someone very special snapped a memory. The lighting like a painting.

— Lady Gaga (@ladygaga) August 18, 2014
"Love means never having to say you're sorry." And we wonder why divorce rates are so high. Thanks LOVE STORY.

— Mark Duplass (@MarkDuplass) August 18, 2014
Bout to give her a morning workout she'll never forget. #BerthaHasItComing #GoodMorningFromMexicoCity pic.twitter.com/pwqFY36c2P

— Dwayne Johnson (@TheRock) August 18, 2014
ALL THAT KNIFE AND YOU JUST USE THE TIP you're killing me

— christine teigen (@chrissyteigen) August 18, 2014
HERE GO MY CHALLENGE: EVERY RiCH PERSON HAD TO BUY ME A NEW LAMBO THEN iMA DONATE $400,000 TO BUiLDiNG A FREE COLLEGE WHERE iM THE PRiNCiPAL

— RiFF RAFF (@JODYHiGHROLLER) August 18, 2014
When I retire I'm going to pursue my first passion: inventing pancakes that can be sold by the loaf.

— Conan O'Brien (@ConanOBrien) August 18, 2014
1 year ago today. pic.twitter.com/cb6tSaTsdb

— We Dem Boyz (@wizkhalifa) August 18, 2014
The world is divided into the Peace Industry and the War Industry.

— Yoko Ono (@yokoono) August 18, 2014
Bazillion congratulations to the brilliant, amazing classy kind and very good looking @UzoAduba pic.twitter.com/zxK5Jzl6SD

— Taylor Schilling (@TaySchilling) August 18, 2014
Congrats @Xtina and baby Summer Rain! I hear she's already hanging out with baby North West! Nope, never mind. That was a weather report.

— Ellen DeGeneres (@TheEllenShow) August 18, 2014
I think I can safely say 57 is the new 56.

— Denis Leary (@denisleary) August 18, 2014
Shaking it off with @taylorswift13! So happy she wanted me to celebrate with her! Bae!!! pic.twitter.com/AVVXiSGvL7

— Perez Hilton (@PerezHilton) August 18, 2014
It's so awkward being around someone who's trying to get a catchphrase started.

— Nathan Fillion (@NathanFillion) August 18, 2014
Image via Lady Gaga Twitter.