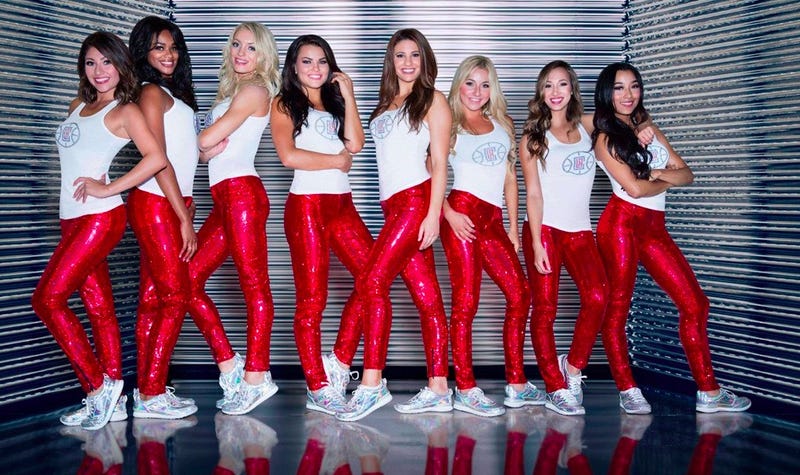 The past few years have seen an increase in attention paid to the only women who are a visible part of men's professional sports: cheerleaders and dancers. But this visibility is less for the work that they do as much as for how little they're compensated for that work; being a cheerleader for an NFL team or a dancer for an NBA team means you are notoriously paid very little, to the point where lawsuits have been filed (and won) over the low wages.

This backdrop makes E!'s new reality show LA Clippers Dance Squad, which follows in the footsteps of shows like CMT's Dallas Cowboys Cheerleaders: Making the Team by profiling the women of the Clippers dance team Clippers Spirit, either particularly timely or particularly tone-deaf, depending on your perspective. The show—which was picked up in November—follows a traditional reality format that E! utilizes on shows like Total Divas: hot, athletic women who spend a lot of time together, making them personally and professionally competitive.
As the voiceover explains at the beginning of the premiere episode, which aired Tuesday night:
This is the world of the LA Clippers dance squad, where the routines are fierce, and the women are elite performers. Here in the heart of Hollywood, they perform for thousands, and are surrounded by glamour and fame. These ambitious dancers must be perfect 90 seconds at a time. They come from all walks of life, and are ambassadors of a two billion dollar brand. The Clippers have been reinvented under new ownership, and now the team's dancers are more visible than ever. This year, the dance squad has a new creative director, and she demands the best.
This "reinvention" has to do with former owner Donald Sterling's dramatic and lengthy exit from the team, which has been taken over by Steve Ballmer.
In August, Jezebel published a piece by Tess Barker, who auditioned to be part of the Clippers Spirit's new team. She couldn't figure out how much they were paid, but she did confirm that it wasn't impressive.

Audrea Harris, a petite African-American woman, stepped in front of us, and the music shut off. We stood. In head-to-toe Clippers gear, she moved with authority, but spoke with a nervous hesitance: "I just want you guys to have fun. This is supposed to be a fun day." Later, in the Q&A section of the workshop, she would tell us, unexpectedly timid: "We do pay you. It's not much. But we do pay you."