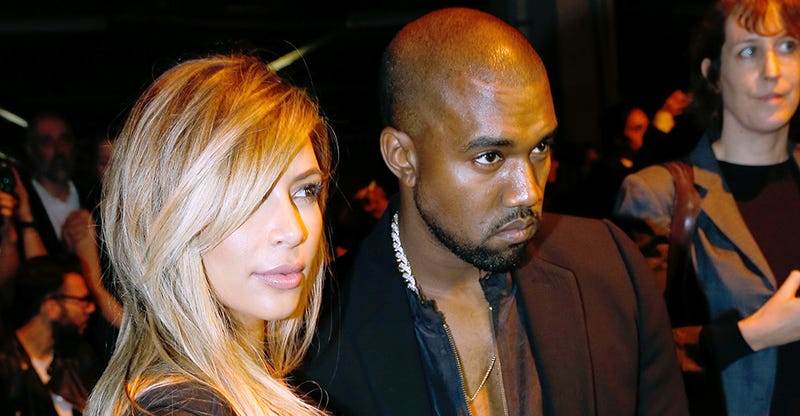 In an interview this morning, Kanye West said that he's tired of being "used" by President Obama, who called the rapper a "jackass" after the great I'mma-Let-You-Finish-Gate of 2009.
"He used to come and visit me and my mama and tell me that he's about to run for president," West recalled. "I just think that we're pop icons, and the president likes to use that type of thing just to be down and stuff. People was fine with me being everyone's punching bag for about five years — 'Man, this is the person we love to hate, so if you want to distract people from everything that's going on…, just say you hate Kanye and there's going be 30 other people who say they hate Kanye.'"

"That was kind of my position in culture so he also used that too — 'Oh, he's a jackass' — because that's how the world felt," the hip-hop artist said.

Ultimately, West concluded, "I don't care if somebody's the president or not. I care about thoughts and how you helping people and what you bring to the world."
I know people are going to fall all over themselves to use this as further "proof" that Kanye is a cra-a-a-a-a-a-azy egomaniac, but try and read what he said objectively. Try and drop the lens of incredulity through which we're all supposed to view Kanye's every breath. Can you imagine if THE PRESIDENT CALLED YOU A JACKASS? For the heinous crime of actually making something interesting and memorable happen at the VMAs? Why are the MTV VMAs sacred? Why should the VMAs be sacred to Kanye West, who knows very well that mainstream awards shows blatantly overlook black artists while dumping award after award on white people for piggybacking on black music? I'm generally an advocate for propriety, and I have some sympathy for Taylor Swift's feelings, but FUCK the idea that the MTV VMAs warrant some special magic sanctity. Can you imagine if you stood up to that, you poked a hole in that—yes, perhaps in a moment of impassioned, manic miscalculation—you made something genuine happen on live television, something that, however clumsily, gestured to an uncomfortable and largely unspoken truth, and then the first black president (whom you know personally) called you a jackass for it!? Which, in turn, propped up a public idea of you as an unhinged narcissist that would likely taint your credibility for the rest of your career? I don't know, man, fuck that. Oh, and I know Obama was backed into a public relations corner, but there's no way he doesn't understand the nuances of that whole situation. I know you know, Mr. President. I know you know. [Mediaite]
Anyway, then Kanye and Kim went to Wendy's and got Frosties. [E!]
Oh, and then he went and spoke at Harvard, because he's a preening simpleton with nothing significant to contribute to the world. [Us]
Correction: We updated the post to reflect the correct awards show — the VMAs, which are even MORE BULLSHITTY than the Grammys. - LB
---
Lily Allen explained in an interview that Adele, Dolly Parton, Rihanna, and her mother are all "bitches," but, like, in the good way. Miley Cyrus is a "bitch rising." Kate Middleton is "not a bitch." Good to know. Let me know when the full spreadsheet is done.
"Dolly Parton is a bitch. Adele's a bitch. Angela Merkel is a bitch…Rihanna's an inspiring bitch, my mum, Miley [Cyrus] is a bitch, rising. She's my hero," she told the publication.

But Allen made one other specific clarification, "Kate Middleton is not a bitch."

The mother of two explained that she's never been one to stay quiet, despite being told otherwise by music executives early on in her career.

"I've always been called 'mouthy,'" she admitted. "When, in fact, I'm just talking. In the music industry, women have always been controlled by male execs, told to do the Kate Moss thing. Keep your mouth shut, or people will laugh at you. They've been talking about us like this for years, basically."
I mean, yeah, okay, but it really depends on what you're saying. [E!]