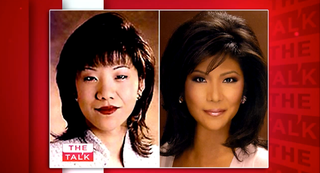 As a 25-year-old working at Dayton, Ohio's WDTN-TV in 1995, Julie Chen wanted to anchor the news on air. BUT FIRST, she had to look less Chinese and more white, according to both her boss and her agent. And so, as she revealed on yesterday's episode of The Talk, she got plastic surgery all over her face. See above.
"And after I had it done, the ball did roll for me," she said on the show. In 1999, Chen became an anchor for CBS Morning News, and then in 2000, she landed her current gig of hosting Big Brother. It's also rumored that that's when she started dating her future husband and current CBS CEO Les Moonves, whom she married in 2004. Chen didn't specify whether her Westernized face got the ball rolling on that relationship, as well.
"If you look at the after [picture], the eyes are bigger, I look more alert...more expressive," said the woman known as Chenbot.