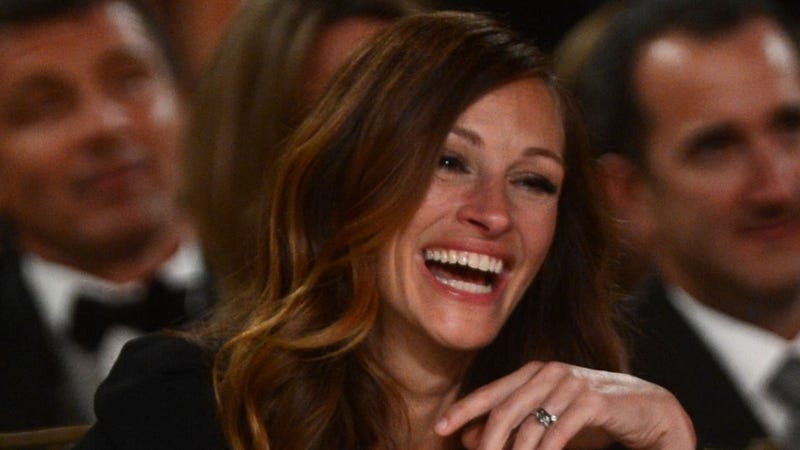 "When I was in high school and she was an adult, she would just let me know that I was definitely overweight. She would make it quite clear to me and in a not-so-nice a manner. It just makes me feel incredibly hurt and very sad."
Later, when Motes moved to L.A. to pursue acting, Roberts tried to discourage her, "mostly because I was overweight. My weight has fluctuated my entire life. So I just got a lot of criticism from Julia, which was very discouraging for me." Although Roberts got Motes a job as a P.A. on Glee, they continued to have their problems:
Their relationship grew even more testy in April 2010 when, Motes said, Roberts made a snide comment about her weight.

"Fuck you," Motes shot back, she said.

"I think we're both trying to change our opinions of each other," Motes said. "It's a work in progress. It's not going to be fixed overnight, nor do I think it's going to be fixed at this point by me just getting skinny."
Sisterfights are complicated. Related: I once heard from someone who knows someone who knows (LOL) that Meryl Streep does not like Julia Roberts, so that is a pretty good indication of things. [NYDN]
Chris Brown's seizure was because everyone hates him so much, doy. #medicalscience [TMZ]
Amanda Bynes had a 30-minute supervised visit with the pet dog she almost set on fire. [TMZ]
One of Katy Perry's promotional gold "Prism" trucks was hit by a drunk driver. [TMZ]
Selma Blair breastfed and wore a hat that would look dumb on most of us but I guess YOLOLOLOLO. [TMZ]
Jennifer Aniston was "disturbed" when she had to kiss her 20-year-old co-star in We're The Millers. [Us Weekly]
Cameron Diaz, Jesse Eisenberg, Zachary Levi, CAA's Michael Kives and Aziz Ansari had a "game night." The game is What The Hell Do We Have In Common, We Better Get Drunk. [Page Six]
Emma Roberts disputes that she tried to cut the cronut line. Sounds like a case for Jackie Chiles. [Gossip Cop]
Lindsay Lohan apparently wanted James Deen to come to Chelsea Lately to support her, but he doesn't like her and he said no. [Radar Online]
Bryan Cranston said acting is his mistress, which I'd rag on if anyone besides Brian Cranston said it. [Us Weekly]
One of the guys Justin Bieber brawled with was a male model who says Beebs was jealous of his chick-picking-up ability, brah. [NYDN]
Usher won the custody battle against Tameka Raymond. [NYDN]
Chris Hemsworth could talk about his body all damn day and I'd be cool with it. [Us Weekly]
Switzerland is like, "Our bad, Oprah." [NYDN]
Rihanna and her haircut played soccer on the beach in Barbados. [TMZ]
Empire Records cast reunion photo! [Us Weekly]
Vince Vaughn had a son and named him Vernon Lindsay because "Old Accountant Name Girl's Name Give Me A Noogie Vaughn" was already taken. [Us Weekly]
Lea Michele is, unsurprisingly, struggling to cope with Cory Monteith's death. [People]
Prince Harry is visiting Angola to meet with a demining team in an echo of his mom Princess Diana's 1997 visit. [People]
Headline of the day: "Matt Damon's Daughter Drummed On His Bald Head." K. [People]
Ashley Tisdale is engaged to musician Christopher French. [People]
Zomg, Matt Saracen wedding picture. People]
Image via Getty