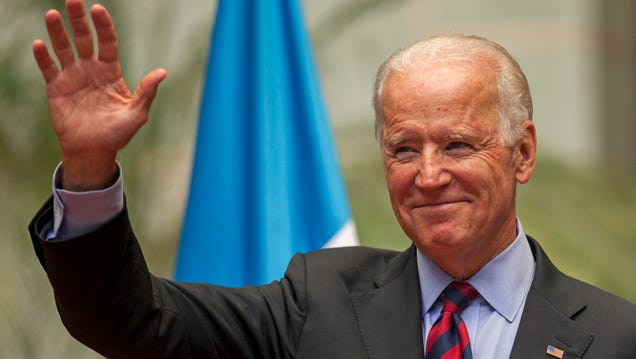 In today's Tweet Beat, we learn that Joe Biden was a hottie back in the day, the next Sharknado film is already being brainstormed and Neal Brennan has some ground rules for your coffee order.
Short sleeve button-downs are coming back but health care has always been in style. #Bornin88? Then #GetCovered. #TBT pic.twitter.com/XeMmUPC2Go

— Vice President Biden (@VP) July 31, 2014
Harry and I both thank you for your birthday wishes xxx

— J.K. Rowling (@jk_rowling) July 31, 2014
As a female writer/producer u never really get the credit that the guys do. But it's women out there who are ill writers/producers

— Missy Elliott (@MissyElliott) July 31, 2014
I'm serving bacon off the top of my newborn's head if anyone wants to stop by for the GREATEST SMELL EVER.

— Molly McNearney (@mollymcnearney) July 31, 2014
If I offer to buy you coffee and your order is over $3.50, I'm never offering that shit to you again.

— Neal Brennan (@nealbrennan) July 31, 2014
I think the whole collectibles thing is getting out of control... pic.twitter.com/R5yNj8wtA8

— Wil Wheaton (@wilw) July 31, 2014
Question: What country should the next #Sharknado2 be filmed? RT plus your answer...

— Ian Ziering (@IanZiering) July 31, 2014
Has anyone seen a photoshoot with a professional black basketball player not in a bow tie in the last 4 years?

— Devonté Hynes (@devhynes) July 31, 2014
Super thankful I get asked to do photoshoots. But y they always wanna put black ppl in suits n shit actin wacky? "Omg I get to look fancy!"

— Devonté Hynes (@devhynes) July 31, 2014
Oops! Forgot to include photo. I'm crazy tired. @mgyllenhaal @GMA pic.twitter.com/Bd33MiySwy

— Julia Louis-Dreyfus (@OfficialJLD) July 31, 2014
Where's *my* fight with Justin Bieber?

— Ronan Farrow (@RonanFarrow) July 31, 2014
Image via AP.