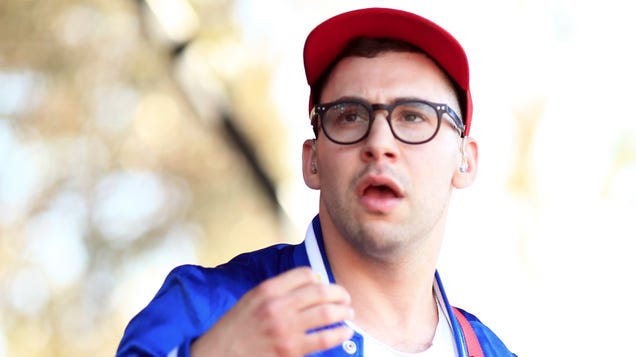 In today's Tweet Beat, Jack Antonoff is a feminist and wants Lana Del Rey to be one too, Cory Booker gives relationship advice and everybody loves Rihanna.
Dear @Rihanna, we would never kick you off Tumblr. We <3 you and your bad girl style.

— Tumblr (@tumblr) June 4, 2014
Just watching the secret life of Walter Mitty anyone got any reviews for me

— Liam Payne (@Real_Liam_Payne) June 4, 2014
What a woman goes through to anchor @nbcnightlynews. Hey, @bwilliams, rock THIS! pic.twitter.com/nrNFwSpxpg

— Ann Curry (@AnnCurry) June 4, 2014
Always have the last word: "Yes Dear." MT @dhouseton As a renown communicator: advice 4 a newly married man on importance of communication?

— Cory Booker (@CoryBooker) June 4, 2014
He gets it! pic.twitter.com/bWLbcFw32B

— Rihanna (@rihanna) June 4, 2014
It's crazy to think about how many countries I've lost hair ties in.

— Taylor Swift (@taylorswift13) June 4, 2014
@JonahHill Is not homophobic. He loves my ass! :)

— Boy George (@BoyGeorge) June 4, 2014
I know @JonahHill well, we were roommates + while he might not be the tidiest person, I promise you he's no homophobe #PoorChoiceOfWords

— Justin Long (@justinlong) June 4, 2014
Moment of gratitude: not being on vacay w/ a new girlfriend, having to "go get us some coffees" only to destroy lobby bathroom.

— dax shepard (@daxshepard1) June 4, 2014
Rihanna is a work of Art

— mia farrow (@MiaFarrow) June 4, 2014
Wardrobe Advice: Dress for the job you want, not the one you have.

— Kenneth Cole (@KennethCole) June 4, 2014
@thelaurengraham you left your shirt at my house! pic.twitter.com/q18NDahQBx

— mae margaret whitman (@maebirdwing) June 4, 2014
Everyone is asking me is Dre gonna give me some money since we're long time friends... Why? He already paid me the 20 bucks he owed me..lol

— ICE T (@FINALLEVEL) June 4, 2014
"Whenever people bring up feminism, I'm like, god. I'm just not really that interested." very disappointing quote from an artist I like

— jackantonoff (@jackantonoff) June 4, 2014
Ugh, sometimes living in Los Angeles is just SO HARD. pic.twitter.com/IjLpVJgu61

— Lauren Graham (@thelaurengraham) June 4, 2014
Image via Christopher Polk/Getty for CBS Radio Inc.