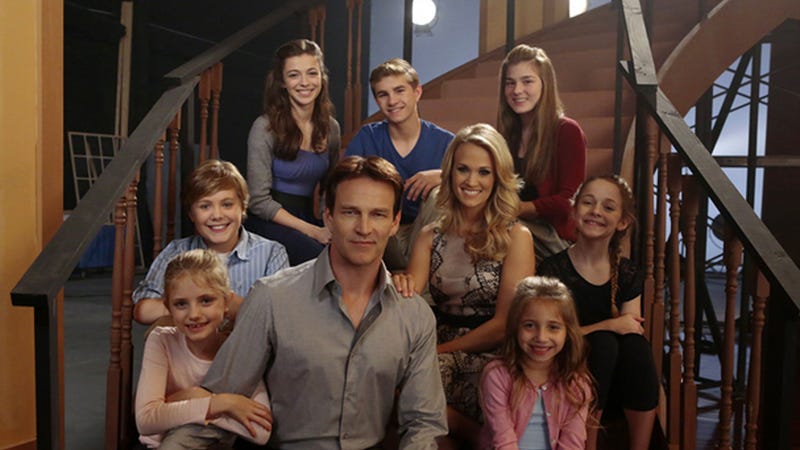 Break out your dress made of curtains and a good Austrian wine (may I suggest a grüner veltliner?)! It's time for our Sound of Music liveblog! The show might be good (it does have Audra McDonald and Laura Benanti in it after all), the show might be bad (yes, probably this), but either way, we'll weather the storm together, much like the Von Trapp family weathered that concert where they had to sing in front of a whole bunch of Nazis.
If things get really terrible, we can all join together in a chorus of "Edelweiss" and together as a nation drown out the broadcast.
8:00pm Let's start at the very beginning. A very good place to start.
Well, they're kicking things off with Audra McDonald, so that promising...
8:04 And here comes Carrie Underwood with a Heidi braid and some weak, trilly bullshit. Callie Beusman, who I'm watching this with, does NOT like her brows.
8:08 Yeah, Maria makes me laugh, too, nun, but for ALL THE WRONG REASONS.
P.S. These nuns are dope.
8:10 How much money would you pay to make one of those candelabras fall over right now?
8:11 Callie wants you all to know that "Spectacles" is her least favorite nun.
8:13 They're prematurely blowing their load with this "Favorite Things" thing. (Yes, I know that they're not following the timeline of the movie.)
Also, what does NBC think they're doing by pairing Carrie Underwood with one of the best singers on Broadway?
8:18 Honestly, I am exaggerating about Carrie Underwood being a bad singer (she's fine), but she is a legit shit actress.
8:23
8:24 You really fucked up that live-whistle, Vampire Bill.
8:27 Do you think Underwood went method and was really praying just then?
8:32
8:34 Credit where credit's due. Underwood is capably handling "Do Re Mi."
8:36 Shut up, Brigitta, you fucking know-it-all.
8:40 My friend Deb's mom Joan is sending her the most amazing texts right now.
8:44 Oh, my god. Liesl is so horny that she doesn't even care that Rolfe is a Nazi sympathizer. I understand, Liesl. IT'S THE SHORTS.
Also, "Sixteen Going on Seventeen" is the most mansplain-y song ever.
And this blocking is some "Blurred Lines" shit.
8:51 Rolfe is as good at carving names in trees as he is at hating Jews.
8:53 "Liesl, were you out walking all by yourself, YOU SLUT???"
8:57 Why would the loud yodeling in "The Lonely Goatheard" make a group of children feel LESS scared?
9:02 This depressing observation is brought to you by Dodai Stewart.