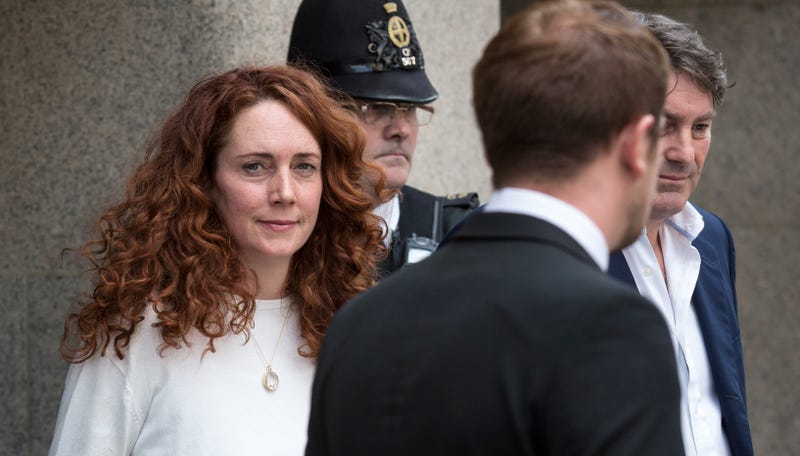 On Tuesday, three years after the News of the World phone hacking scandal first broke, former head of News International Rebekah Brooks was acquitted of all charges against her, as was her husband and her personal assistant. How did this happen?
Ever since she was first implicated in the scandal in 2011, Brooks' guilt has been a foregone conclusion to many, even after she was acquitted of one charge against her. Here's why.
She was the head of the newspaper where the hacking took place
First and foremost, the responsibility of an editor is to know everything (important) that's going on under them. But even if they don't, they know they might have to take the fall for the decisions made by their employees anyhow. During the News of the World trial, prosecutors learned that over 1,000 people had their phones tapped by a private detective hired by the paper. Some of that hacking – including, most famously, the phone tapping of a missing student named Milly Dowler in 2002 – occurred when Brooks was editor of the paper itself. Brooks was later promoted to chief executive of News International.
Before she realized she had to resign, Brooks released this statement:
It is almost too horrific to believe that a professional journalist or even a freelance inquiry agent working on behalf of a member of the News of the World staff could behave in this way.

If the allegations are proved to be true then I can promise the strongest possible action will be taken as this company will not tolerate such disgraceful behaviour.

I hope that you all realise it is inconceivable that I knew or worse, sanctioned these appalling allegations.
Her statement slightly contrasted with a statement made at the same time by Glenn Mulcaire, the private investigator found responsible for hacking phones:
Working for the News of the World was never easy. There was relentless pressure. There was a constant demand for results. I knew what we did pushed the limits ethically. But, at the time, I didn't understand that I had broken the law at all.
If Milly Dowler's phone was indeed hacked, "it would mean either that Ms. Brooks had no idea how the paper she edited was obtaining information about the Dowler family for its articles, or that she knew about the hacking and allowed it," wrote Sarah Lyall and Eric Pfanner in the New York Times after the scandal broke. Others have largely agreed with that analysis; the head of the Labour Party, Ed Miliband, said he believed there was no way the phone hacking wasn't done by just "a rogue reporter":
It wasn't just one individual. This was a systematic series of things that happened, and what I want from executives at News International is people to start taking responsibility for this.
She had an affair with the dude who did get implicated
Though Brooks has denied that what she and former News of the World editor Andy Coulson had was an affair, she has admitted that they were best friends and have had sexual relations with one another from time to time. On Tuesday, Coulson was found guilty of phone hacking, his second such conviction. Coulson was News of the World editor before Brooks and had resigned in 2007 when early allegations of hacking were brought against him. Coulson had to resign from his job as Prime Minister David Cameron's communication's director because of the allegations.