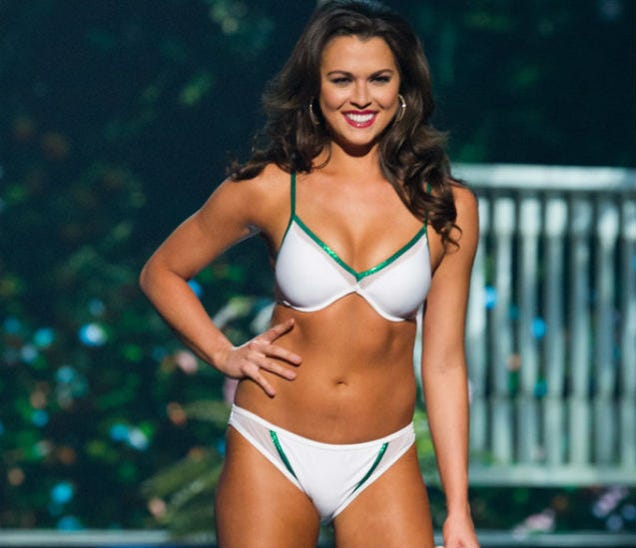 A contestant at Sunday's Miss USA pageant sparked a Twitter frenzy of praise for her "normal body" during her appearance in the swimsuit portion of the competition.
Miss Indiana Mekayla Diehl, 25, made it to the semifinals but was eliminated before the top 10. She may have been ousted from the pageant, but she was easily the biggest star of the night. When she walked on during the swimsuit competition, fans swamped Twitter, excited to see a pageant contestant with her body type:
Miss Indiana shows you don't have to be super skinny to be beautiful.

— kennaaa (@Hi_ItsKenna) June 9, 2014
Finally a contestant that's not a bag of bones. #missindiana #missusa2014 #beautiful

— Terra Jo (@terraj21) June 9, 2014
Dear #MissIndiana thank you for looking like an average woman. #SwimsuitCompetition

— Stephanie Watson (@stephwatson_91) June 9, 2014
We love that Miss Indiana sported her stunning "normal" body at this years #MissUSA2014: pic.twitter.com/hsqynQcNXthttp://t.co/9xUHkMKGVq

— Beach Riot (@BeachRiot) June 9, 2014
I really wanted Miss Indiana to make it to the top 10. She was the only girl up there who had a relatively normal body. #MissUSA2014

— Abby Snyder (@NotTooShabby12) June 9, 2014
To clarify: I'm not using quotes on "normal body" to indicate anything other than the fact that this is the phrase I pulled from people's Twitters and should not be construed as a scare quote or anything like that.
It's always difficult to see the word normal used to describe anything, especially the female body. (I'm just glad they didn't call her plus-sized!) Diehl also offered her thoughts on being the poster girl for a normal body as well. "I'm OK with 'normal,'" said Diehl. "Whatever defines 'normal.' I guess it's better than being weird."